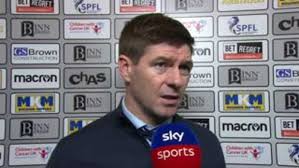 2 ways Corona crisis will give Celtic 10 in a row
The season may well have come to a premature end but two advantages it will leave behind will undoubtedly help Celtic in the quest for the magical 10 in a row.
Firstly Steven Gerrard will be spared further embarrassment on the sidelines and in the aftermath at pressers meaning the rookie with no plan B will be our main threat to our shot at immortality.
Secondly, is the denial already consuming the deluded, they will be telling us all it is null and void regardless that it won't be accepted by them, just by FIFA, UEFA, the SFA and the rest of Football.
The pressure is off, their nightmares have been averted, an excuse has been found which both fuels their victim complex and gives them further leave from reality.
I had long said that come next year they would return to Dave King's quip that the titles don't count as The Rangers weren't there, this will further embolden Them in detaching even further from reality.
The facts are, we have been top of the pyramid for the last 8 years, whatever teams found themselves below us makes no difference to our trophy cabinet.
When UEFA confirm this season over, be it tomorrow or sometime in the summer, we will be presented with the trophy and our records advanced accordingly.
Should by some miracle the season restarts, we will see it through and win it easily, we will not ship 4 games out of 8, we have only lost 2 out of 30.
Should the season restart and we win it Slippy will have excuses at hand and there will be little time to find a replacement meaning that we will face him once more.
He isn't in the same league as Lenny, he won't win anything whilst he is there, he and his players are scarred, we haunt their sleep.
Whilst Coronavirus is a terrible thing and there are far more important concerns than the outcome of a football season, the distraction it has provided will mean we will play against an inherently flawed manager with a team that misunderstands the basics of the game.
The howls from the Buckfast throwing crowds will relax that the 10 has already been stopped and the press will doubtlessly fuel this deluded fantasy.
When they wake from it, we will have secured our 52nd title and 10th in succession, this isn't going to end well for them.
But let them have their fun for now, the less they understand the better.
---