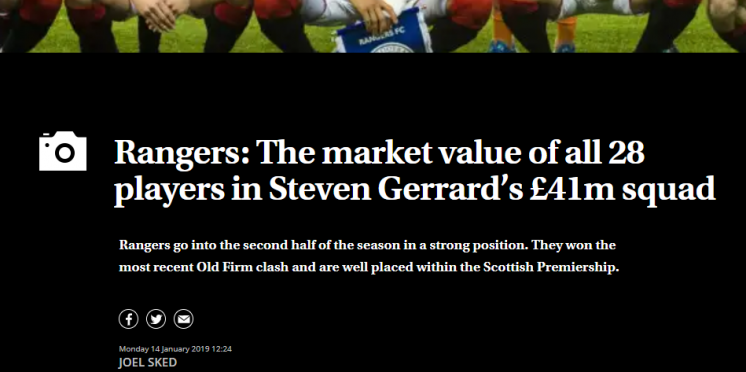 8 days before King must pay for shares, SMSM prices Sevco squad at £41m
Succulent Lamb is making a comeback, this time at a paper that is itself in administration, The Scotsman.
The link above will take you to an article of pure fantasy that has priced the players in the Sevco squad at a hefty 41 million quid.
There is of course a major subtext to this commercial, whoops, i mean article, Sevco are skint and need to get rid of some players, King also needs to come up with over 10 million pounds on January 25th or the cold shoulder will fall.
If this happens, every player on this list becomes worthless whilst King remains in place as no listed company can buy any assets from a cold-shouldered company.
With the window open and the sands draining through the hourglass, the hacks have duly obliged with some succulent lamb, this one has roast spuds, gravy, mint sauce and all the trimmings.
Now these numbers come from Transfermarkt which is fairly accurate, however, the prices are if anyone actually wanted one of these players, with Steven Davis having just moved on a free, pricing him at 2.7m is a joke.
Joe Worral for 7.2 million! Name one club who is going to spend that, let alone give it to a club in financial turmoil.
Alfredo Morelos is more believable at a mere 2.7 million, about his level, for all the talk about him moving for mega money, no bids have been received, no clubs linked and no one bar the Peepul want him on their books.
Conor Goldson comes in a 2.48 million, that is what he cost apparently so his value has maintained somehow.
The second page of the 7 has Jermain Defoe priced at 1.8 million, even if this is true he is not on the books of the Newco so he adds nothing to the squads price, he is not their player to sell.
The same is true of Ryan Kent who is reportedly worth 1.58, a little below the 1.8 million that Tavernier is worth.
Coulibaly comes in next at 1.18 million, again a loan player who sees his name surrounded by players like Grezda, Murphy and Dorrans, themselves players no team will bid for.
McGregor starts off the hundreds of thousands players coming in at 900,000, itself a fair price, he has been a very good keeper so far, if Wes had been in goal we would be 10 clear.
Lafferty and Candeias also come in at that price, on the former he was sold by Hearts for half that and has since been benched, who will pay for a player world renown as a diver?
Then the real comedy begins with Carols Pena, himself Sevco's version of Marvin Compper coming in at 900k as well, who on earth is going to pay the wages and that transfer for a recovering alcoholic?
Just below Ryan Jack is Lee Wallace who is purportedly worth 720k, again, in what world is someone going to pay 720k for a laughing stock who has barely played due to injury and disciplinary sanctions?
Wes Fodderingham comes in at 540k, if there is a team who wants to sign a goal machine for the oposition and also have a player touted as the next England number 1 in their squad, then all it will cost is half a million pounds.
Near the bottom of this fantasy is Jordan Rossiter who is valued at 405,000 which for a player whose muscles are eating themselves is a steal.
With no bids coming in for anyone, Sevco are getting desperate, the take over panel has stated this is the last chance for King to make good on this deal, when he doesn't, the Concert party will be playing Ave Maria, again.
---