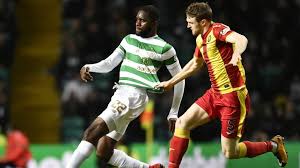 9 days, 3 games to win 7 in a row
Normal service has been resumed as Celtic beat Partick in a crucial Glasgow Derby 2-0, now for the pretenders to the throne.
We have a match vs Aberdeen on the 23rd that will go a long way to deciding the destination of the Premiership with the opportunity to open up an 8 point gap on Scotland's second best team.
We then have a banana skin match vs lowly Dundee FC away, which are surely 3 points we must bank on.
Then comes the long-awaited return of the Newco to Paradise, heaven help the toilets.
I assume they will win their games against Kilmarnock and Motherwell so a victory against Them would give us the opportunity to open up an 11 point gap.
Their fans have been gloating that we have been found out and are about to fall from grace.
They have a mathematical hope of being top the League at the break and therefore this fantasy has been allowed to surface and it has been fanned by deluded members of the press.
It is time for Celtic to slam the door shut on Sevco and the Sheep just as the transfer window opens.
We have already begun bringing personnel in with Marvin Compper the first of the winters purchases.
With Lewis Morgan expected to sign and go back on loan for the rest for the season from St. Mirren, he will be one for the future and won't influence this years title.
He looks a good prospect and at a reported 300k he is a bargain so it is a snip for a player who could prove to be worth millions.
Dundee defender Jack Hendry also looks like he is on his way to Paradise, it will be interesting if he plays against us on St. Stephen's day.
If a fee is settled beforehand all he can do is get injured, have a great game and deny us or have a bad game and be pilloried by our support.
That said it may well be a rehersal for a move to Celtic, his performance may well dictate the payment due to Dundee.
John McGinn is a man who is pondering his future which will have a concomitent effect on Liam Hendersons future as well.
Hendo is a player cursed to be behind Scott Brown and Nir Bitton, too good to be let go, not good enough to make the team.
Out of all the transfers available I honestly hope this one goes through, for both players sake Paradise and Easter Road would be the best long-term destinations for the two of them.
Regardless of the Moonbeams across town with a host of English Premiership players lined up in the SMSM, we already have a clear budget, targets and we are top of the League.
It is time to put this year's title race to bed and to enjoy the winter break from a dominant position.
---