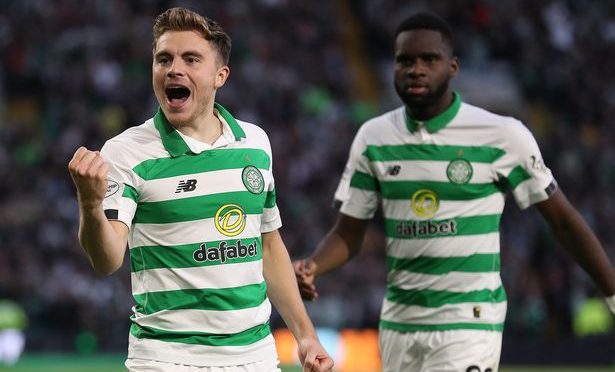 9 IAR Jamesy hungry for more as Cesar's record nears
James Forrest has spoken in the Glasgow Times about his desire to win even more trophies and his pride at winning a ninth title for Celtic, something only McNeill, Lennox and Jinky had achieved before Forrest and Scott Brown added their names to that stellar list.
Forrest now has 19 trophies to his name, 9 League titles and 5 Scottish Cups and 5 League Cups, the legendary Billy McNeill finished with 1967.
1 European Cup
9 League titles
6 League Cups
7 Scottish Cups
Forrest can yet add to his tally and pick up a 6th Scottish Cup if his Celtic team can overcome Aberdeen and one of the Edinburgh clubs, at just 28 he has the opportunity to win many more.
Speaking in the GT:
To win nine-in-a-row, to play in all seasons and to be in the same company as the likes of Broony, Bobby Lennox, Billy McNeill and Jimmy Johnstone, that's why you want to play, and keep playing, at a club like Celtic.
"Once you finish, you'll look back on it fondly, but when it's still going just now, you want to keep working as hard as you can to keep adding to that and being in amongst it.
"It's been a crazy journey, there have been so many memories, cups, league titles, games in the Champions League, there have been so many highs. When you win stuff, once you get a taste of it, you want more. What the club has done in the last 10 years is amazing and it's great to be a part of it.
"Now that the league's been called, we're desperate to start preparing for next season. Once we are able to start back, the boys will be raring to go.
"Every year with Celtic there is always pressure right from the start of the season. We're always expected to be challenging for the title and the cups. For us, next year won't be any different."
The attitude of the Celtic winger has improved a 100% since he rejected a contract extension under Deila, since Rodgers took over he has found a focus that saw him win the player of the year last season.
Now reunited with Lennon who gave him his debut, the two look likely to write their names throughout the history books, indeed, if we do win the Scottish Cup and manage another treble, Forrest will have 24 titles to his name, incredibly, one more than Big Billy.
---