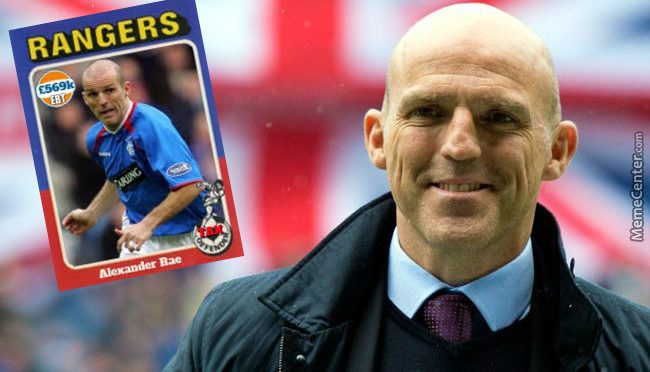 Alex Rae's silverware moonbeam to be solved by Lyndon Dykes
You have got to hand it to Newco cheerleader Alex Rae, the EBT recipient is always good for a quote or two and today's rambling interview in the Daily Record was no different.
Speaking about everything from sunken pitches to Champions League places, Rae heaped praise on Steven Gerrard and The Rangers fans who have bought 32,000 season tickets for the season.
But the more amusing elements were his hopeful message about that first ever elusive trophy before explaining exactly why they haven't won anything as yet. Rae said:
"Rangers need silverware this season and I'm sure part of the reason for so many fans renewing their tickets is they want to be there when it finally happens.
"There's no hiding from the reality that Celtic are in a stronger position on and off the park even if they, like every club in the country, have been feeling the financial pinch from coronavirus.
"You know, I believe Rangers have proved they can turn over Celtic in one-off matches but recent months will also have given the manager and his coaching staff time to reflect on the shortfalls of the current squad.
"Their greatest challenge remains overcoming teams who have been well below them in the league and too many points were again dropped last season against the likes of Hamilton, St Johnstone, Hearts and Kilmarnock.
"In many respects, it's easier to play against the top sides than those who set up in a low block and it will be interesting to see how Rangers find a solution to that problem in the coming months.
The Rangers haven't won a trophy in their entire 8 year history with a succession of managers gifting Celtic treble after treble since they were promoted up for the very first time.
Rae went on to say the answer may well be Lyndon Dykes playing alongside Alfredo Morelos to unlock those pesky defences, he didn't speak of the tactical limitations of the manager or the honking standard of long-ball football played against the smaller clubs.
"Gerrard might be tempted to go a bit more direct and the addition of a more physical striker such as Lyndon Dykes may shake it up a little and provide a stronger presence at the back post.
Morelos is likely away in the summer with a Qatari club and Leicester battling it out for his signature apparently, if Lyndon Dykes and going a bit more direct is his answer to Sevco winning their first trophy, those 32,000 fans might have to wait a little longer.
---