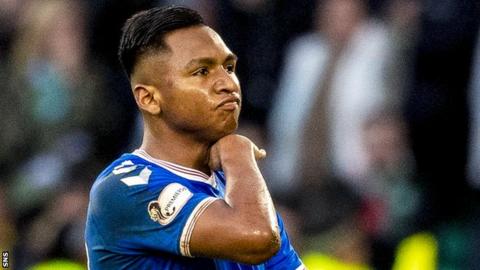 Alfredo begs for a move and lists Liverpool as suitors
Oh my days… Alfredo is back in the news this time translated properly begging for a move away from The Rangers at the same time linking himself to Liverpool!
The tenuous link due to Gerrard being the manager is also applicable to Andy Halliday, since he was playing for Sevco I am sure they are aware of the Ibrox sarlet and have perhaps been alerted to his availability on a free.
Answering on Radio Caracol if he thought Liverpool were monitoring his progress he answered:
"I think they are aware (of me).
"I imagine that is the case with the coach we have, who played for Liverpool for so long.
"I imagine he has friends and directors who come to the games, as well as scouts from other teams. It's a motivation to keep doing well.
The temperamental Ibrox star didn't mention that they are probably aware of his disciplinary record also and that in a league with VAR that this would likely see his card tally double, he then went on to beg for a move from the 8-year-old club.
"In the short-term I'm with Rangers.
"It depends on what I do, if I score a lot of goals there will be interest from a lot more teams, from the biggest and most competitive leagues.
"There many interested clubs, let's wait until the end of the season to see which leagues are asking for me and then I can make a decision.
"If God grants me the opportunity to go to a good club, it will happen."
God willing this list of clubs aren't a figment of his imagination or that of the sports desks in Scotland, the many clubs interested in the past have included Barcelona, Seville, Dortmund, Leicester, Newcastle and some mystery clubs in China, no bids were received by any and all links shot down as nonsense within days.
Speaking about his aims for the coming season he forgot to list scoring against Celtic, something he has stated he would do in other self serving broadcasts.
"My dream is to be a champion, to be a champion with Rangers is the only thing I am lacking to continue making a mark with this club.
"Then if there's an opportunity with a bigger team it'll happen."
With a bid of just 3 million euro tabled by an unnamed club, it remains to be seen where El Buffalo will ply his trade of poaching, throat slashing, stamping, elbowing and choking in derbies.
---