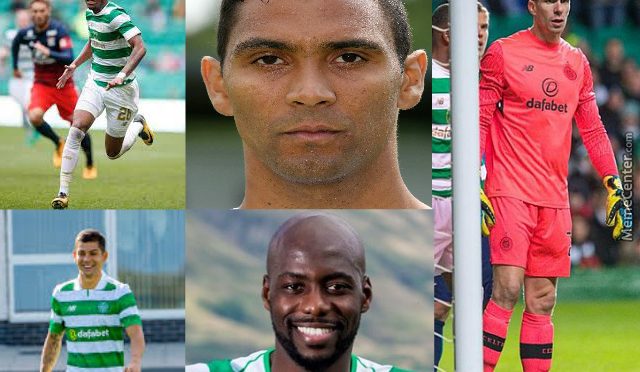 Allan gone, time for Compper, de Vries, Gamboa, Benyu and Mulumbu to follow
There are a few players being linked with moves away on loan deals such as Hendry and Morgan whilst a permanent move for Izaguirre is also being mooted so I will not comment on them in this post.
We do however have at the club some players with no Celtic future, indeed the man out the door in Scott Allan was attracting interest and found a club willing to sign him, the same cannot be said of these players.
Compper is truly one of the most perplexing signings in the history of the Football club, brought in to an area of dire need he has taken a wage to sit not on the bench, but in the shed.
Whatever he has done to upset the manager he clearly has no Celtic future and must be sent packing, a move to a Bundesliga club would be best for all, even if it meant Celtic paying out part of his disastrous contract.
de Vries is still on the books but is a mile away from the first team, Gordon has a mortgage on the spot and Bain is champing at the bit to take his place.
Conor Hazard is on loan and highly thought of, there is little chance of de Vries ever playing for Celtic again and will likely run down his contract until the summer when Hazard comes back, if he were to find a club willing to take him on their books he should be moved along straight away.
Gamboa is another player who has little to no chance of playing for the first team again, he has blistering pace but unfortunately has poor positioning and seems better at attacking than defending.
Brendan's decision to bring Ralston in from the dark when Lustig was injured coupled with our signing of Gutman from the US would seem to point to no way back for Gamboa, behind Lustig he is now essentially 4th choice with Celtic fans still crying out for a big name signing at Right Back.
Benyu was an experiment gone wrong, his only game was in a 4-0 win vs Lindfield and he has not popped up on the radar since, at the very least he needs Football and must be loaned out, his last loan to Oldham netted just 4 games, if he can't get a run down there he has no chance in Hoops.
Mulumbu at 31 isn't a player we can wait to come right, he hasn't set the world on fire since moving to Celtic and being a defensive midfielder has Scott Brown, Callum McGregor, Olivier Ntcham and the returning Nir Bitton to compete with, as well as the much younger yet injured Kouassi.
He looks a mile away from breaking into the first team and should be sold on with opportunities increasingly limited at Paradise for a player in his position.
With Celtic fans calling for new faces, it is only natural that some will have to leave, no one will miss any of these players if they were to leave, it would be more of a surprise if any actually featured again this season, for that reason they should all be moved on whilst the window is open.
---