You know I am conflicted writing an article whereby I am actually praising the Daily Record, about a month ago I highlighted that Kris Boyd actually wrote something worth reading, next thing you know Charlie Adam and Alex Rae will be up for a pat on the back, but you have to give it to the red top, they called out the Heart and Hands podcast for what they were, a pack of racists.
This has prompted one of the more odious sites on the net to pop up and defend them, The 4th official is a site run by Pratyay Maitra who for whatever reason is a staunch as brown brogues.
This follows up on an attack on the Record for putting the tweets on the front page of the paper and claiming that only Sevco are being singled out, you can read the whole article via the above link, here is a taste.
Yesterday, Daily Record did a story on Heart and Hand on the front page of their publication. The front page. Don't get me wrong, David is a very nice guy, but he is hardly a celebrity. A story about his risque tweets hardly merits the front page of an MSM publication. I am not going to link to this shameful article, but know it belongs in tabloid trash.
"Risque tweets" about Taigs, Tarriers, Bead rattlers, papes" etc, risque…
This banger accuses all clubs on earth of being like Sevco and claims that Rangers are the true victims.
Every club in the world have fans that engage in downright ugly behaviour. Every club. There are no exceptions where fans of some clubs are perfectly behaved and only clap like seals when told to. However, in recent times, in the circles of establishment politicians/media, there's only one club that is held accountable: Rangers.
Clap like seals… mate seriously.
He is pretending to stay anonymous for his own safety even when having a bio link on his website.
Many people asked me why I am staying anonymous while running The 4th Official account? The reason is I know no one is safe in today's world and even their existence on social media may well be weaponised. The owners of The 4th Official asked me to run the Twitter account (and later Patreon) some time back, and one of my main conditions was that I would do it if I am allowed to stay anonymous. Because I know, everything I write here can and will be used against me in the future.
But today he is the target of a campaign to remove him, regardless of his anonymity.
Of course there was always time to talk about child abuse in between.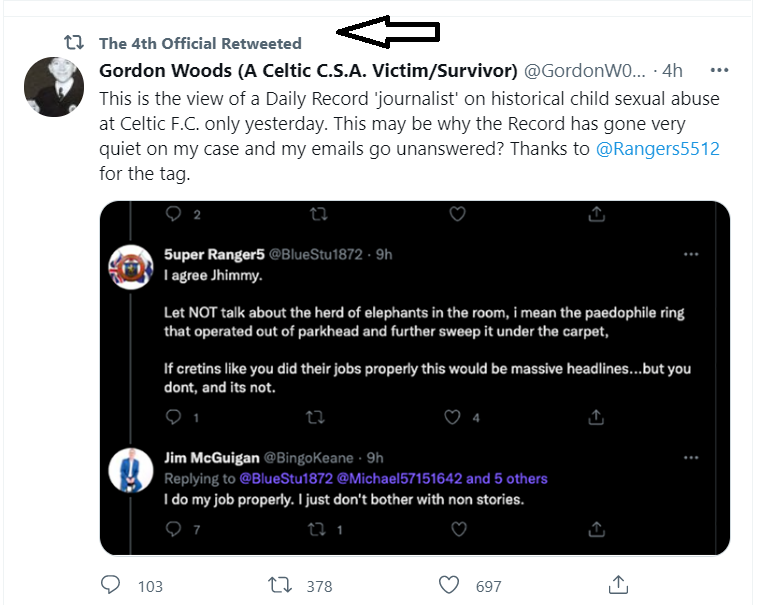 Deflect, double doon, repeat, always repeat.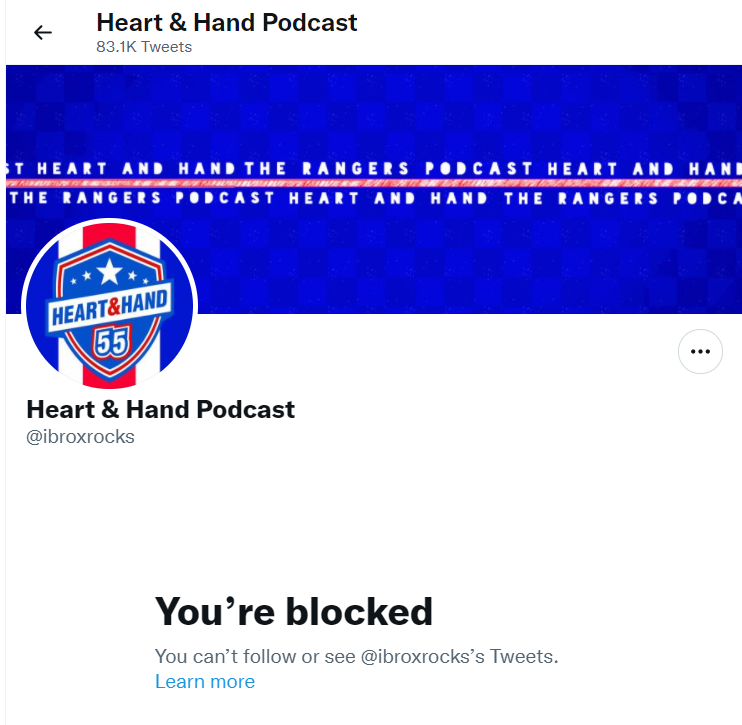 I went to see what all the fuss was about at Heart and Hand but I have been blocked, go figure.