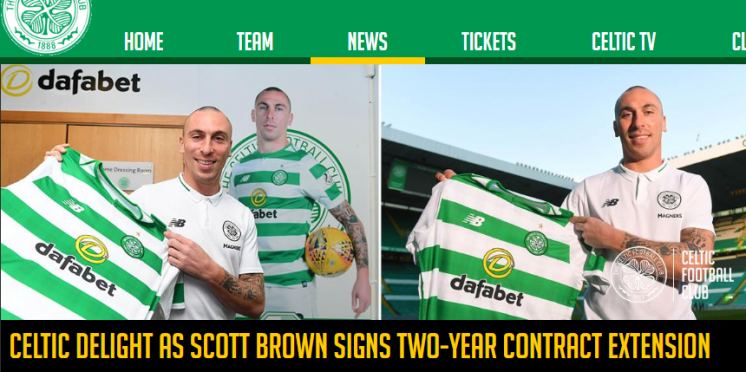 Broony in form of his life since contract extension. The Captain is leading by example
'Scott Brown is finished' ever heard anyone say that? Those who were saying it wearing both blue and green have quietened down of late with the captain in blistering form.
With the absolute shock which hit Celtic with the withdrawal of our former manager (I am not going to use his name again) the club was in crisis, enter Neil Lennon and an embrace with Broony that warmed many a Celtic heart.
Since then Broony played Eddie in for the goal that maintained our 8 point buffer and sent Celtic fans into delirium and then bashed a goal in to seal progression in the Scottish Cup after James Forrest wonder goal had earlier given us the lead.
Broony's form is continuing on from his goals vs St. Johnstone and his key goal at Kilmarnock, since signing a contract extension we have seen the third coming of Scott Brown.
He looked finished under Deila and came back hard under our former manager, he then started to wane this season and rumours circled of a deal in Australia, that no one at Celtic was worried about him leaving showed the dip in form he was experiencing.
After the winter break he has resigned for 2 more years and has gone about his work like the Broony of old, his no nonsense defensive work has been exemplary but it has been in the attacking third where he has proven to be crucial.
With injuries to Rogic, Ntcham, Christie and McGregor he has assumed extra responsibilities and when it has mattered he has been the key to our recent run of results.
The Newco laughed at him with some player no one has ever heard of mocking his celebration even though he didn't score the goal, this club will now go into battle with Broony on March 31st on our home turf, a mere 4 weeks from today and we will see the skipper exact revenge on Them.
Celtic can sit back and watch the weekends fixtures play out and await our next victims in the Cup to be drawn, we are going back to Hampden and whoever we draw will not be cheering to Tina Turner, not while Scott Brown's Celtic and 25,000 Greens are waiting for you at the halfway line.
---