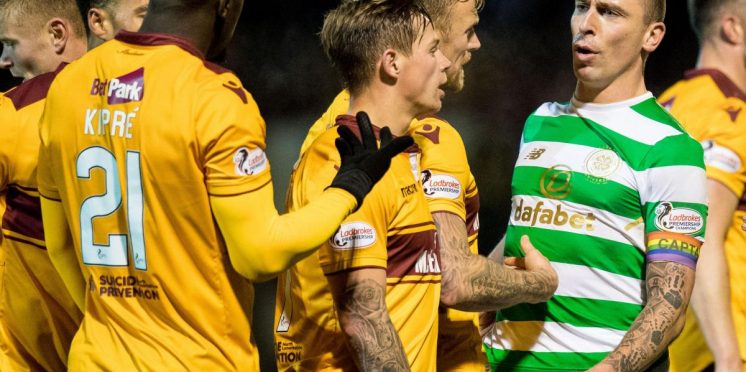 Broony savages Motherwell, Moult and SPFL
Celtic captain Scott Brown hit back in explosive fashion taking in a raft of targets after the controversy over 180 minutes vs Motherwell.
The Skipper took aim in the ET against those in the stands who were throwing coins at Leigh Griffiths and himself comically saying that he made a pound.
"You don't hear anything about coins launched in people's direction and trying to injure people," said Brown. "That all gets thrown under the carpet and they focus on two decisions.

"I made a pound. There was a coin, strawberry chewits – I picked them up too! It isn't showing a great example, especially when there are kids there. If they misplace that coin and it hits a kid or someone else on the head and you don't want that but eventually someone will get hit.

"There was a few times it happened. It was at throw-ins and a few times with Griff taking a corner. It is always from that same section. You think they would eventually move those fans around to stop it happening.

"It is starting to become part and parcel of going there now. It is a great place to go and play football because the fans are on top of one another but you can't be launching things. If we do anything then we would have a bad reputation if we had to throw something back but they can do it for 90 minutes.

"Eventually someone will (get injured)," he said. "Someone will get hit on the head, or something, with a coin. Until that happens, probably no-one will do anything about it."
Brown wasn't finished with his criticisms which included a Louis Moult dive which resulted in the free kick which Mika, unfortunately, turned into his own net.
"Louis Moult dived and we managed to score an own-goal from it – you don't hear anything about that," said Brown. "He said I dragged him back and I definitely didn't. I have seen it back and it is shoulder to shoulder.
Refreshingly, Broony took aim at one of Celtic fans favourite targets, the SPFL.
This was due to the farcical scheduling which has seen us drawn against the Steelmen 3 times in a week.
"The SPFL have put us in that position," he said. "After winning a cup, you play the same team two and a half days later. It shouldn't really happen.

"I know the fixtures are building up but there is plenty of time after Christmas.

"If you look at our schedule all the way through December as well, for them to throw an extra game in for us? They are supposed to be helping us as well.

"I'm not surprised by it. Because it's the SPFL. There was no explanation given. If you asked Motherwell or ourselves, we would want some time off after a cup final. As the winners, you would like time to enjoy it – not to be thrown right in at the deep end again against the same opponent.
It is very hard to argue with any of Scott Brown's protests, coin throwing is something encountered by Celtic often at Ibrox, but the repetitive instances against Motherwell demand action from the authorities.
Someone could lose an eye.
On Louis Moult if the Captain says he dived then that's all I need to hear, Scott Brown is a man of integrity who never shirks a challenge and will put his hand up for his failings, he is a man of his word.
Lastly on the SPFL's farcical scheduling, it is almost as if they allowed the tripleheader to go ahead with the hope that 'Well would win one of them and stop that dastardly Brendan Rodgers and his awful team making that horrible history.
For some Peepul it is too much to bare.
---