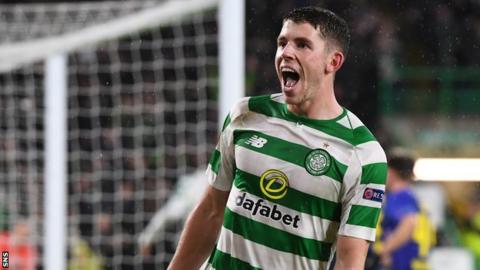 Christie in contract talks, 5-year deal a no brainer
Ryan Christie is reportedly on the brink of a new contract with Neil Lennon talking up an extension in the Daily Record, this is great news with the Celtic midfielder a standout last season.
Lenny praised not just his goals but his overall contribution, that he isn't a guaranteed starter in a midfield which has Forrest, Ntcham, Rogic, McGregor and himself filling 3 positions is incredible, he would walk into any other team in the League.
That he can play as a creative/attacking mid or as a wide man is fantastic for Celtic, it gives Lennon so many options if the game isn't going our way, his versatility is something that we will hopefully see in Hoops for a long time to come.
There has been some deluded chat on the radio recently about Celtic leaking money from our 30 million pound surplus, that we are signing up our best and not selling them off is a good sign.
Whilst times are tough, Celtic is a club that doesn't feed its fans feel good stories laden with slogans, we tell the truth and plan accordingly, that we are reportedly in talks with Edouard and now Christie is great news for the football club.
Lenny said:
"That's an avenue we will look to pursue. He was terrific for us last year and I've love to give him an extension.
"It's all quiet right now in terms of talks because there's been so much going on but we'll be picking that up again soon.
"He scored 20 goals last year and I'm sure he would have added more if the season went on. That's a fantastic return for a wide man.
"But it wasn't just his goals. It was his all-round game that was so important for us."
Christie is a gem, one bought for a song from Caley, should he sign a contract extension then hopefully it is a 5 year deal like Rogic signed, one that would keep him at the club well beyond the 10.
With Ntcham likely to leave before the end of his contract and Brown to retire in the coming years, keeping Christie long term beside Forrest and McGregor is a no brainer.
Hopefully the club can get this over the line before we take the field in August, it would be a huge boost for the club.
---