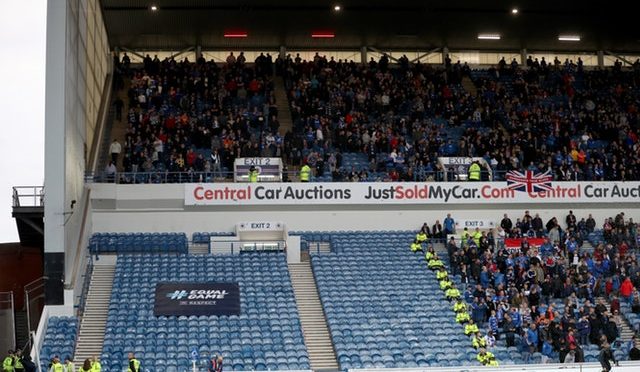 Closed stadium beckons Scotlands Shame after 3rd offense in a season
Once again the vilest fans in Europe have gone on tour with their foul song book in tow, this time singing "We hate Catholics" on a Ryanair flight whilst reportedly kicking chairs drunkly on a commercial flight before descending on the terrace with their hate filled anthems easily heard.
Earlier in the season UEFA partially closed their stadium putting up fair play messages in the form of banners on the seats after sectarian singing against St. Josephs and the horde was in full voice away against Legia and Feyenoord sing F**k the Pope to the tune of Sweet Caroline.
These banners were much smaller than the massive banners seen at Lazio, the punishment was not anywhere as bad as it could have been.
At the time UEFA threatened that future infringements could lead to a complete stadium closure.
Referring to repeated racist behaviour, Uefa's Article 14 says: "The following disciplinary measures apply in the event of recidivism: a. a second offence is punished with one match played behind closed doors and a fine of €50,000;b. any subsequent offence is punished with more than one match behind closed doors, a stadium closure, the forfeiting of a match, the deduction of points and/or disqualification from the competition.
Now with the evidence on film both on the plane and in the stadium, it is time for UEFA to punish this club properly and hit them in the hip pocket, they have cut a swathe across Europe attacking the religion of the people in Gibraltar, Poland, Holland and now Portugal.
They are forever the victims as today's nonsensical statements illustrated, no doubt the People will demand their Kulture be allowed to hate whoever they want, but should UEFA hand them another slap on the wrist for singling out and attacking a religion then it opens up Pandoras box.
Can you imagine a team traveling to Israel and singing We hate Jews?
Or to Bosnia or Albania singing We hate Muslims?
Imagine the Portuguese singing We hate Protestants?
The outrage would be huge and the punishment massive.
But Sevco can go to a Catholic majority country and sing We hate Catholics and chant FTP without any real sanction.
If there is to be any fairness this horrible club needs to be smashed for these offenses.
This wasn't a crime against Celtic fans, this was an attack on a Catholic country and on the religion of a billion people around the world.
Until they are taught a lesson this will become a regular feature whenever they play.

---