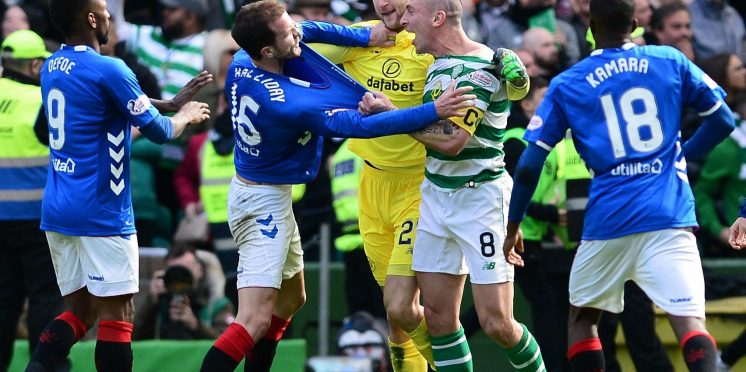 COVID restrictions deal double blow to Newco without effecting Celtic
Today the worst kept secret in politics and Football was revealed with the delayed return of fans to stadia not just across Scotland but indeed, the entire UK and the directive not coming from Sturgeon but Boris himself.
As German fans reap the benefits of a society which began wearing PPE from the outset and can now return in decent numbers to stadia, the debacle which was the Tories herd immunity policies is now one which after having cost so many lives, will now cost football teams dear.
For Scottish clubs matchday income is vital, this is particularly important at Sevco as they are consistently spending more than they earn, a pattern that has crawled out of the ground from the dead club they pretend to be.
There are 2 significant issues for the 8-year-olds, the first is finance, simply a Europa League run for them is a massive percentage of their income, when they played Bayer Leverkusen they charge £43 for home fans, for away fans it was only £39 as UEFA has a €45 cap on tickets for away fans.
53,000 fans x £43= £2,279,000, for 3 matches the figure rises to £6,837,000, with Boris saying football will not have fans in stadiums for 6 months that means even if the Newco qualified and then got out of their group they wouldn't see a penny from the stands.
This has compounded them losing the opportunity to make money from the qualifiers, sure they would likely have charged less but still easily pulled n £1.5 million per match, over up to 4 rounds that is another £6 million lost.
This money will not be replaced by their merchandise deal as Castore is now itself a joke that even Club 1872 (founded in 2012) are laughing at.
Nor will it be through sponsorship as their Nascar jersey hasn't enough spaces to add extra tire companies to it.
Their second blow is a bit ammusing, when the draw came out it was said that Celtic had received a helping hand via having the Glasgow Derby moved to the last possible game, well after today's announcement, there will be no fans in at new years either.
Celtic will play at an empty Ibrox, much as we did after 60 minutes when Pedro was gaffer, the wee club has just had its hopes of earning additional hard money dashed but luckily the SMSM are bracing themselves for Dembele dollars for Alf.
The pressure grows on them by the day, on and off the field, just as we inch closer to the top of the league.
---