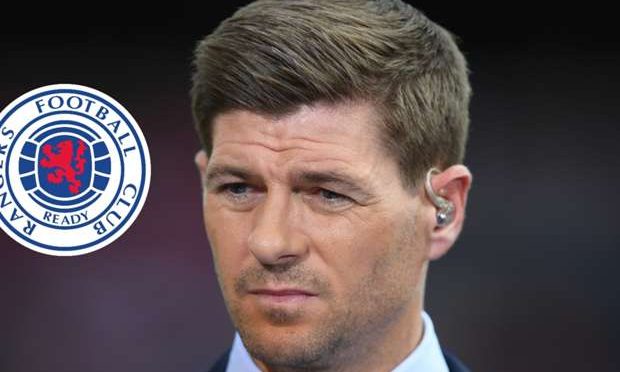 Dear Stevie G, listen to the songs this weekend before selling your soul
Celtic fan Steven Gerrard is still in the mix as the season ticket hype reaches a frenzy in the SMSM, the deluded are gnashing their teeth on Twitter and 55 is once again being spoken of as a mere formality.
What no one is saying is that the Peepul will bring their full songsheet to Paradise this weekend, does Steven Gerrard want his blood waded through and that of his daughters?
You would hope not, there are big offers to good to be refused, there are also red herrings which Steve Clark is well aware of as he reportedly turned the Newco down.
Rangers may pretend to be a big club, they may pretend to have a world record and they may pretend to be going for 55.
The reality is they are £17 million in debt on soft loans, have no NOMAD, are run by a crook in absentia and are due to be cold-shouldered.
They may look to have a massive support around the world, the reality is there are bastions of bigots and Biffers everywhere English is spoken and the most slovenly end up screaming WATP and FTP.
On a glance they have a 5-star stadium, in reality, it is an asbestos-ridden midden with the roof falling in which has not seen a maintenance budget since 2011.
This may appear to be an opportunity to thrust your career into the spotlight, in reality, it is a managerial death sentence.
Ally McCoist started the trend, he hasn't been seen yet is oft heard.
Kenny McDowell was thrown under a bus by Salary when he did running away, he hasn't managed since.
Stuart McCall went from Sevco to Bradford City AFC and failed to get promoted from League 1 and was sacked the year later after 6 straight defeats.
Mark Warburton had an entertaining spell at the Newco, for Celtic fans reading guff of Magic Hats, 55 and coffee machines not in Scott Brown's league, he resigned so they tell me… they told him too.
Murty was thrown the reins and got a draw vs Celtic as Griffiths was tackled by Hill around the waist.
He soon moved over for Pedro Caixinha who is himself a Catholic and wow wasn't this told to us all everytime points dropped.
The howls for Real rangers Men never cease, as soon as a point is dropped the bigotry and blame light up inside them.
After Pedro's sacking Murty came back to be lauded, then crucified before being fed to the Celtic Lions at Hampden.
He has his final chance to win vs Celtic this Sunday and should he fail he will go the way of the rest, absolutely nowhere.
Rangers may be a household name, but so is Ronald McDonald, taking on Red Herring FC isn't an opportunity, it is a gamble, one that has failed for everyone who dared roll the dice so far.
---