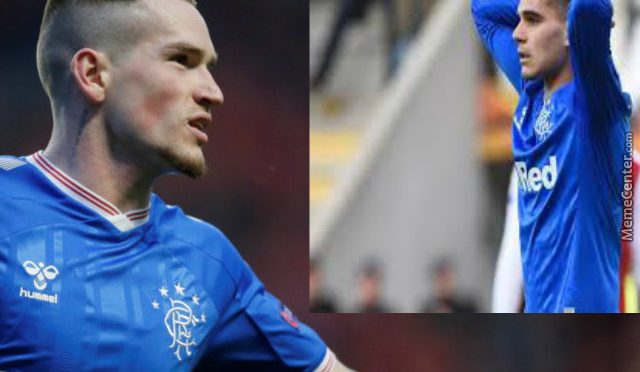 Hagi vs Kent: The numbers show the Newco's systemic flaws in recruitment
Do you know what Ryan Kent and Ianis Hagi have in common? Both played against Hamilton (0-1) St. Johnstone (2-2), Kilmarnock (1-2) and Aberdeen (0-0) between February 1st and March 4th.
That is 9 points shelled in 33 days of chaos at the Newco, of course Hagi wasn't panic bought in time for the surrendering of the initiative vs Hearts on January 26th.
Hagi of course replaced Ryan Kent in the Scottish Cup surrender to Hearts so on that occasion they didn't take the field together, but both failed none the less, to a team now on the brink of relegation itself having had its worst season since itself skirting Liquidation.
Talking of panic buys, no sooner had Jonny Hayes added the second vs Them in the first derby at Ibrox, the Newco saw its exacerbated fans screaming on Twitter "Announce Ryan Kent".
To raucous laughter emanating out of Merseyside, Liverpool banked 7 million, the Newco panic bought a player who had achieved 4 goals in the season and thrown a punch at Scott Brown.
Now they have splashed another 3.5 million on another player who has issues beating teams that play in front of less than 5000 home spectators.
Ryan Kent's career statistics are nothing to rave about, 156 appearances in all competitions for a return of 18 goals.
Ianis Hagi is somewhat better, marginally, picking up 30 goals in 124 appearances.
Ryan Kent's conversion percentage is 11.53%, the man hasn't had an assist for over a year, by the time Football resumes goodness knows how long that will be, for a winger that is positively depressing.
Ianis Hagi has a better rate at 24.19%, this is hardly amazing however, 1 in 4 should have him scoring 9 goals in the Premiership next season.
As said above in the games he did play for The Rangers were the one where they gave the season away, he couldn't put Accies, Killie, Saints or the Sheep away.
In fact neither of them could.
These are players who have been overhyped by the media in the desperate hope they will be the panacea to all of the Ibrox club's problems.
We saw how that worked out with Kent last season, we have had a taste of it this year with Hagi.
What no one wants to speak of over there is that both of their saviours have failed against players on a quantum of their wages, playing in front a fraction of their fans for clubs well down the ladder.
That Hagi or Kent for that matter can't beat the semi-professionals bides well for Celtic, players of such poor temperament are welcome over there as they chase their first trophy.
With recruitment like this, Celtic's success is assured, long may it continue.
---