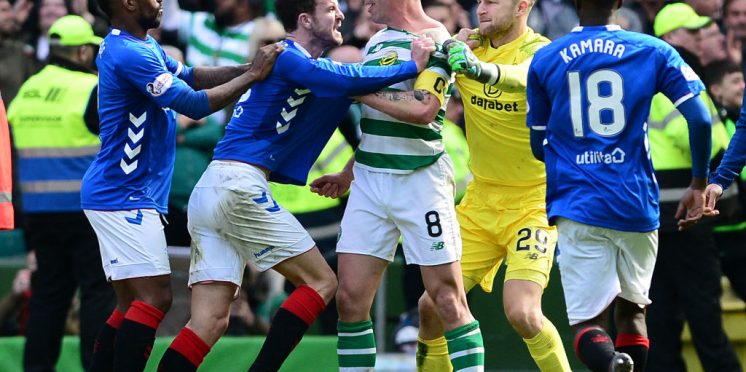 Hurtin Halliday relives title pain
You have got to hand it to Andy Halliday, just when you think you have heard the last of him he pops up again in the media with some more pearls of wisdom.
Today he has given an interview to Open Goal about why The Rangers failed against Celtic, it was vague and repetitive but wreaked of pain.
His complaints about us winning games in the last minute made me chuckle, like everyone in the Sevco dressing room was gutted when Broony scored against Hamilton or when Ajer got the winner at Pittodrie, something that champions do.
Asked what happened after Dubai, he made no references to the rumours of hookers cocaine and bust ups instead he said:
"It's the million dollar question you just can't put your finger on. We're out there, we're training hard, we're training well.
"It wasn't even just the results, it was the way we were playing. It's the form.
"This season we were flying. We beat Celtic in the game in December. Mid-season camp, game back and we played Stranraer in the cup. We were terrible. You couldn't tell who was Rangers and who was Stranraer on the day. We were so poor.
"And then going into St Mirren next week, again really poor."
"I think for the first six months of the season you could have argued who was the better team out of Rangers and Celtic.
"I just think Celtic's experience counted into the second half of the season. When they weren't playing well they were just grinding out results. There were so many times they'd score last minute winners. We weren't playing well and just dropping points.
"From the outside looking in. Rangers have got a big squad as it is, but the core of the squad is good. Good players. I just hope that they sign three or four real good quality players, and hopefully that will make the difference to closing the gap and trying to go win the league.
"Celtic are a good team. I'm never kidding anybody on. So it's going to be difficult, but I think Rangers have got the capabilities to do it."
As Andy said, we are more experienced and as a result, we are a team of serial winners, not losers who are not readily mistaken for Stranraer.
---