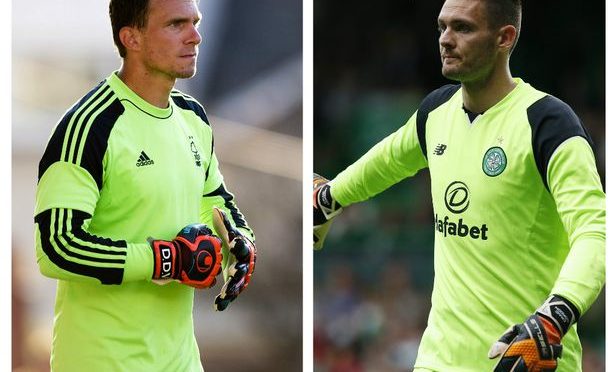 A couple of weeks back i wrote that the "Keeper must shine or we must buy" in the lead up to the Dembele derby.
I am not dissuaded from my earlier convictions, i believe Celtic need to buy a decent goal keeper or we will be found wanting again.
Dorus De Vries has shipped more goals than Wes Foderingham in the last month.
He has picked the ball out of his own net 11 times.
Against Aberdeen, Rangers, Barcelona and Inverness Caley Thistle he has failed to secure a clean sheet.
As i said a few weeks back, Celtic have been blessed with number 1's of the calibre of Boruc and Forster.
These men do not make small errors in positioning and were more than goalkeepers, they were a presence at the back.
Boruc commanded all eyes in the stadium, sucked up all the attention, all the hate, all the pressure.
He loved it.
He thrived off his position as the custodian for the Popes XI.
Fraser Forster was nicknamed the Great Wall by the Spanish press after his heroics over 2 legs vs Barcelona.
De Vries and Gordon couldn't hold a candle to either of these men.
The facts are that they do not have the skills or the presence that is needed if we are going to take this Revolution to the next level.
Not buying Michel Vorm may turn out to be our biggest mistake.
We have the money and we need a keeper.
Gordon is erratic, De Vries is unspectacular at best.
Those of you who are old enough to remember Seville will remember Rab Douglas standing between the sticks for Celtic.
Across town the Oldco had an absolute technician in goals: Stefan Klos.
He goes down as one of my all time most hated Huns, not because he was a scumbag, but because he was so good.
I have often said to friends that if we had had Klos and the Shame had had Rab, we would have won the treble domestically and won the UEFA Cup too.
As it was they won the treble and we lost in Seville.
A great team needs a great keeper.
At the moment we have a good team and two average keepers.
If we are going to get our team back to the levels of teams past, we must address the custodians position with a quality purchase.
In the meantime hopefully Dorus or Gordon can find some mongrel and run their areas properly.
The manager has seen potential in De Vries.
It is time he produced it for all of us to see.
---