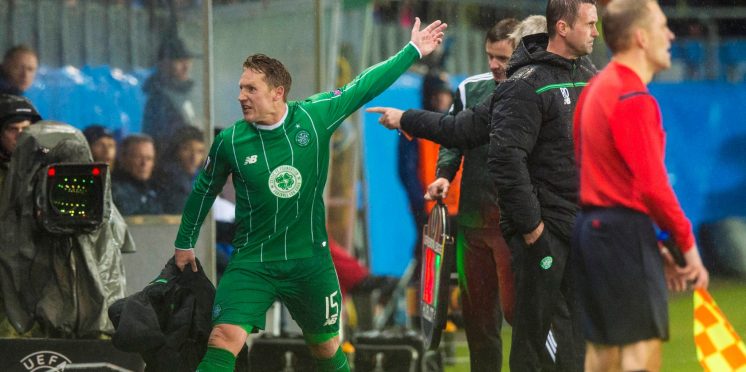 Kris Commons latest anti-Celtic rant a scream of pain from a forgotten man
Kris Commons as I have written many times before was a hero of mine, of course, he opened a laptop at the end of his career and took to attacking Rodgers who had frozen him out and of course Celtic in the process, the one time Hoops fan favourite now regularly comes out with mindless comments and today's is no different.
Speaking in The Sun he takes the current situation well out of context for a sensationalist headline, having been sacked from TV and writing occasionally in the Daily Mail, itself a worse publication than the Daliy Record, Commons now seems to lash out to try and remain relevant.
Speaking about the COVID issues which have plagued the St. Mirren camps goalkeeping stocks Commons said:
 "Can you imagine if we had an Old Firm game, with the league on the line in one of the last matches of the Premiership season, and the very same situation as happened to St Mirren occurred at Lennoxtown?
"Imagine the SPFL said to Celtic: 'You've got no goalkeepers. You've just got to get on with it. Deal with it.' If Celtic had to face Rangers with, say, James Forrest in goals, there would be carnage. Let's not pretend otherwise.
"But it wouldn't even get to that stage because, 100 per cent, the league would postpone the game. If they didn't, there would be uproar.
"Imagine viewers tuning in from all over the world to see that match live on television with ten-in-a-row, and potentially another Treble, at stake.
"History and dreams are on the line this season and, if they were compromised by a ruling that left Celtic or Rangers without a goalkeeper or scrambling around to find one at the very last minute it would make the league and those who run it look absolutely idiotic.
"If you're asking me if I think St Mirren are being punished because they are St Mirren, I would have to say: 'Without a doubt, definitely'.
"I think the league look at them and think: 'Oh, it's just little St Mirren over in Paisley. There's not too many supporters who are going to kick up a fuss about this.'
"The big hitters in the league would be treated properly if this happened to them, but St Mirren should have been given a bit more respect and a bit of leeway after a situation that was not of their making.
"I know the authorities will point to the fact that the fixture schedule is ridiculously tight this season.
"But these are unprecedented times amid a global pandemic that has taken its toll on sport harder than ever before.
"It's not a good look when one of the Scottish Premiership's managers, Jim Goodwin, is describing it as being in danger of becoming the laughing stock of world football.
"The authorities have got it badly wrong. Again."
For the record Kris, Bobby Zlamal came in on emergency loan, if it had been in one of the last games of the season it may well have been postponed, but this of course is within the transfer window so the two cannot be compared.
Expect Commons to continue sticking up for whoever is playing Celtic, it is a real shame as he had his fingerprints on the first half of the run and would have been an honoured guest at Paradise for the rest of his days had he not taken such a liking to attacking the team where he was loved.
---