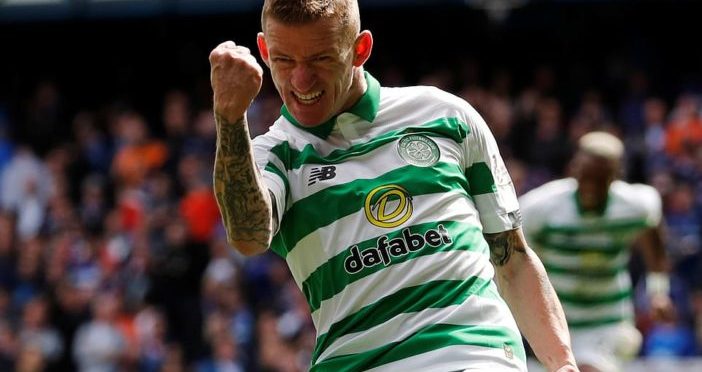 Late bloomer deserves a new deal, make him a Celt for life
Football is a funny game, no sooner have you ruled a line through a player a chance comes their way, they shine and the next thing you can't imagine your club without them in the team.
Jonny Hayes is a player that i personally wrote off as did many of us, I will put my hand up to say how wrong i was, since coming back from a broken leg he bided his time and then upon getting his chance has been magnificent.
He was named man of the match today in a game which had little dazzle but plenty of ethic, Frimpong was tireless, so was Ajer and Julien, our back line whilst not overly troubled in defence provided emphasis in attack especially in transition.
Ajer suring up the middle, Jullien hammering everything that moved, Frimpong's pure energy on the overlap couldn't deny Jonny Hayes the award let alone the attacking players as the Irishman continually got past his man and whipped in telling croses.
One lead to an own goal, but in fairness, there were 4 or 5 which had the crowd gasping, no sooner would Motherwell be in attack than Hayes would be back in his place harassing them with a high press into mistakes and poor decisions which themselves provided possession time and again.
At 32 he is not a young man, but he deserves to be playing at Celtic beyond when his contract expires in the summer, a years extension should be a bare minimum, a 2 year contract or a 1 year extension with an option of a second would be more fitting.
One thing with Jonny Hayes, he doesn't look like a man that needs to be kept hungry, he looks a player who has all the desire to run himself into the ground for the Hoops every time he pulls them on.
With the international break upon us and then fixture conjestion off the radar, lets hope the board have some contracts for men like Ajer, McGregor, Edouard and some negotiations with Soton over 2 players we would desperately love to stay.
But moreover, lets deal in the Bhoy who is enjoying every minute of his time in Hoops, and keep him in them until he hangs up his boots, the Bhoy is a wee gem.
---