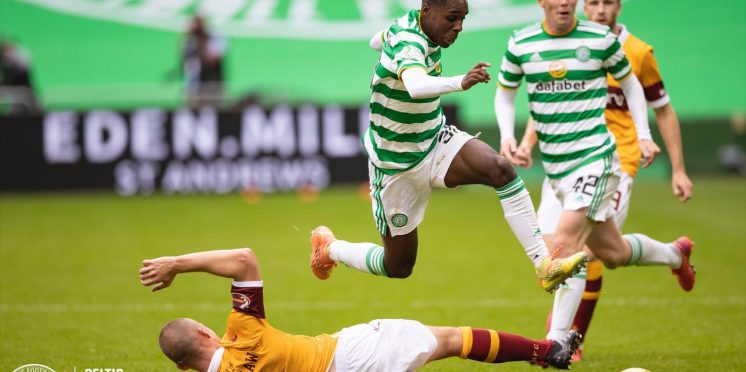 Lennon confirms Frimpong on the verge of transfer
Jeremie Frimpong is on the verge of leaving Celtic with Sky Sports reporting that Neil Lennon has confirmed he is on the brink of a deal that could bring in a large transfer for celtic.
Unfortunately Man City have a very large sell on fee for the highly rated Dutchman, but a fee of 8 figures will still be a major boost in this corona hit season.
As reported bz Sky;
"Jeremie is abroad at the moment speaking to a club, so that deal looks like it may go through," said Lennon, ahead of Wednesday's match against Hamilton.
"The player made it clear… this hasn't appeared in the last couple of days, this has been in the background for the last six or seven weeks.
"The club has made strides to renegotiate with Jeremie and his representatives and that wasn't the case. The player made it clear to me, to [head of football operations] Nick [Hammond] and the board that he wanted to leave."
Frimpong still has two-and-a-half years left on his current deal at Celtic, after joining on a four-year contract from Manchester City in 2019, but Lennon expects the defender to be sold this month.
"We got a really robust offer from a club for Jeremie," he added.
"The club felt it was a good business, we do as well from a football side of things, and when a player makes it clear he would prefer to play his football somewhere else, we all agreed that was a decision we needed to take.
"Yeah, we are disappointed to lose him, but he's come in for £300,000 and we could sell him for a huge amount of money.
"So it's credit to the development of the player himself and what the coaches and the club have done for him, that a couple of top European clubs have shown an interest in him."
A new right-back is now high on Lennon's priority list before the transfer window closes on February 1 but the Celtic manager admits the club is unlikely to spend heavily this month.
"I don't know if we'll be spending money," he said.
"It may just be looking at a player on loan until the end of the season, or one or two bargains that we feel could be value for money and would make us better."
---