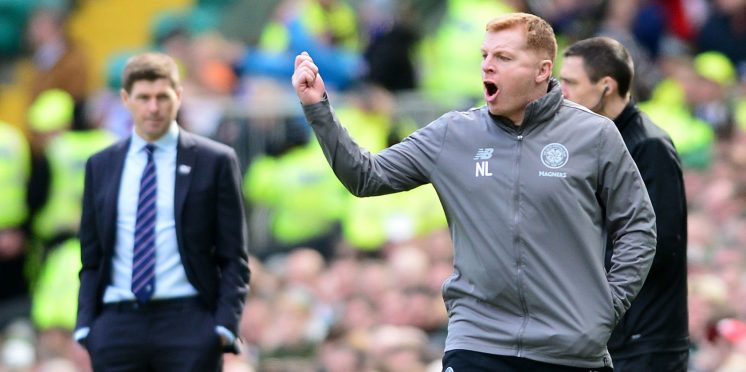 Lenny mark II bares his teeth in Flag day massacre
There have been plenty of doubters in the last 6 months about Neil Lennon with many questioning the manner of victory and pointing loudly at our failure at Ibrox.
But today we saw the second coming of Lenny, he said repeatedly last year that he leaned on Kennedy for tactics and wanted continuity from Rodgers system to get Celtic over the line in our chase for both Premiership and Scottish Cup.
That approach was validated as we won both, now we have seen Lenny bring about a change in our playing style and the augmentation of the squad with some new signings.
He has also got both Griffiths and Ntcham playing at their best after their respective issues, Griff coming back from his own demons is to be commended, Lenny forgiving Ntcham for his gaffe is also to be praised.
We have seen a player come back from the scrap heap to look a massive threat to the SPFL and Europe alike, Griffiths loves both formats.
With Ntcham we have seen a player who could have been punted for very little be told to work his arse off and earn a transfer at the money Celtic will sanction, we have seen a demotivated player star in his last 2 outings in Hoops.
With Hatem we saw glimpses of a very solid defender, Boli looks a work in progress, a player that should he develop could yet be a fan favourite, the ethic is certainly there.
Biton didn't put a foot wrong today and had a fantastic preseason, Mikey and Edouard look deadly every time they touch the ball.
The horrible realisation is filtering through at Mordor as we speak, we are not a team that has peaked, we are a team that is yet to.
With Lennon saying he is hopeful of a few other signings yet and with KT still to come back into this team, we are far from the finished product, should we qualify for Europe and maintain our players, 9 in a row is ours to lose.
After all, we played with 2 Centre Halves suspended and kept a clean sheet and belted 7 in at the other end.
This is not the beginning or the end, this is the second coming of Neil Francis Lennon.
---