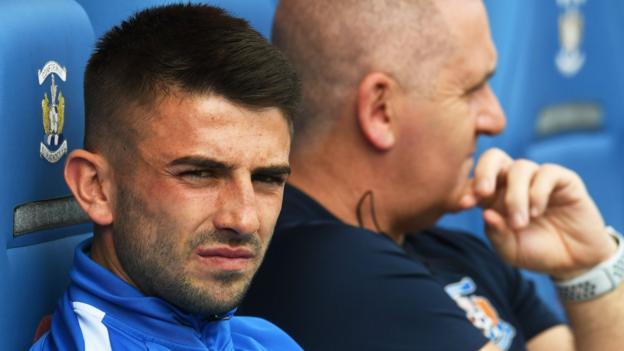 McCarthy, McGinn, Taylor, If we are going to bid, why not just pay the money?
Celtic have been linked with lots of players this summer and bid for a few too, we started with the Turnbull saga, moved quickly for Jullien and Bolingoli, snapped up Luca Connell and brought in Hatem, the mistakes of past windows looked done and dusted.
But then we have found out that Jullien and more so Bolingoli are far from the finished product and that Hatem has fitness issues, more reinforcements were needed.
This need has become apparent after our loss to Cluj, of course after we saw our own money tree shrivel and die in the space of 15 minutes at Paradise.
The problem that night was that Bolingoli wasn't trusted, we played Calmac out of position and the rest is history, to rectify the problem the obvious choice is Greg Taylor at Kilmarnock.
That the business wasn't concluded as soon as they named a price is baffling, we could have got our Bhoy in, blooded him in a few matches and be taking him to Ibrox tomorrow.
Instead, we are none the wiser as to who will actually play at Left back tomorrow or indeed if another will be added to the roster.
We have seen in the past Celtic's reluctance to buy domestic players for 7 figures, again something that looked to have passed when we actually met Motherwell's 3 million pound valuation of Turnbull.
We low balled Hamilton Accies over McCarthy and he has since gone on for 10's of millions in subsequent transfers playing in the English Premier League.
We lowballed Hibs over McGinn, itself the most ridiculous bit of business in our modern history, that we fell short by a couple of hundred thousand inviting outside interest was foolish, McGinn of course has signed a new contract at Villa for a small fortune, his next transfer will be huge.
Now we come to Taylor, a player we need, a player who is available, a player whose price will not upset the ledger one little bit, his wages will take over Izzy's spot, probably for less, his transfer will be less than one-eighth of the money we brought in for KT.
There are possibilities of moving Hendry the other way, what is needed is their valuation of him, subtract that from 3 million and pay the money and send Hendry the other way.
One saying that keeps popping up online is "when will we learn our lesson" I fear that we won't learn it whilst Lawwell is at the club, he is too set in his ways.
Should the manager not receive the player he has lodged a bid for again for the want of a couple hundred thousand pounds, then the spotlight will be upon those decisions for 90 minutes tomorrow.
Any reverse there and expect to see protests in the stands.
---