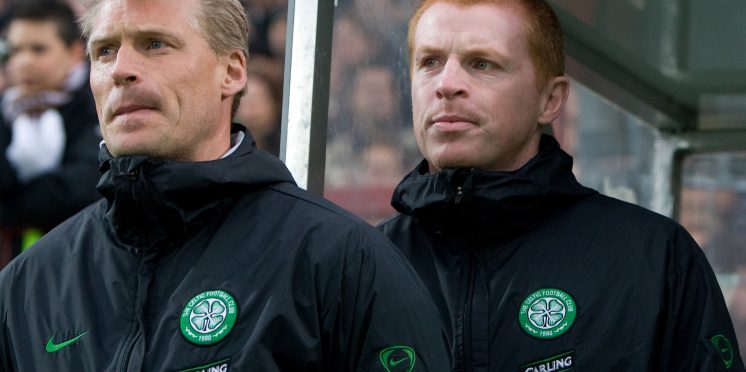 Mjällby's Lenny rally cry. Now is the time to bring him back to fill the void
Johan Mjällby has come out in support of former team mate and managerial partner Neil Lennon stating that Lenny is indeed the man to lead us forward, with the loss of Damien Duff in the offseason, the question must be asked is it time to bring Johan back home?
Gavin Strachan hasn't exactly set the world on fire with his position at number 3 behind Kennedy, but with Lennon teetering on the brink after an awful month, should he not bring in extra help in his coaching staff?
I do not care who is in charge at the end of the season, I care about the result, I have said in recent articles and many others that I trust Lenny will get it done, maybe it is time to bring those who not only believe but also desire to win the 10.
For mine, it is time to bring Johan home, he knows the gaffer and what this years means to the gaffer, the club and us supporters, this is what he had to say on the Celtic Huddle Podcast.
"Of course I have sympathy with him because he is under enormous pressure and has such a heavy workload.
"But on the other hand, there is no other place Neil Lennon would love to be.
"He breathes Celtic. He breathes football. So I think he loves this challenge. I really do. It's a chance to make history."
On the tactical side of Lennon's game, he added: "I think he works more tactically now than he used to. He knows that today's generation really need to be pinpointed what to do.
"They don't want any responsibility. That's not a criticism, that's just the way it is.
"They need to be told exactly what to do.
"I think it is something that is a bit new to Neil [Lennon] but he learns and takes it on. He's certainly not a dinosaur.
"The years I spent with him, he was spot on tactically.
"He had a lot of great ideas that he didn't always use, but was great during games to pinpoint whether things needed to change defensively or attacking wise."
Mjallby also revealed he is a huge fan of skipper Scott Brown and says his leadership is vital with what is at stake this season.
He added: "I am a big, big fan of Scott Brown, he is very important and he still has a lot to give.
"He's a big leader in the dressing room and on the pitch. I don't see too many recognised leaders in this team, and that is going to be important in a season like this when they are trying to make history.
"If he loses his form and not perform as well as he normally does then Neil has something to think about.
With may calling for change at the top, why not give Lenny a man he can trust and has been successful with on and off the field instead?
Mjällby would be amazing for us, even more so for Neil.
---