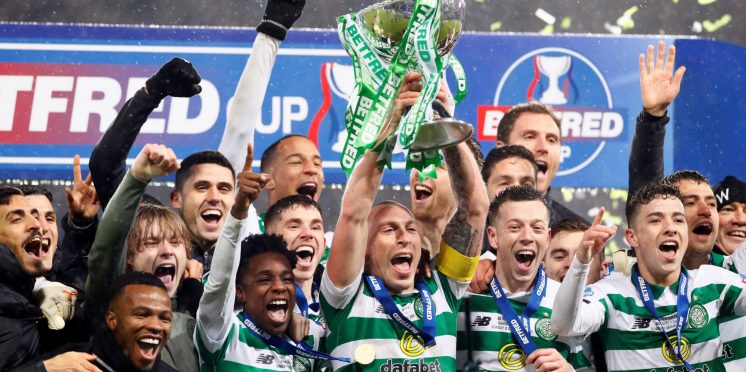 With the nine secured and the focus on the Decima I thought I would have a trip through the past nine titles with some personal musings, mostly about players. I know there are stand out games and events, but this is a little more lighthearted and just a personal opinion.
A- I have gone for big Kris Ajer. We have to remember he's still very young for an established centre half and there is a possibility that he may have played his last game for us, but he has been there over the past few years and we should acknowledge his contribution to the nine. Well done big bhoy and if we don't see you again good luck and thanks for the transfer fee.
B- Broony. Been there for the lot. Part talisman, part bete noir for everyone else, he is ours and we should cherish him. When he first burst onto the scene as a snarling, swaggering terrier at Hibs I hated him. I totally understand why every other team despises him and we love him. Broony has evolved into a fine Celtic captain and is the perfect guy to take us to nine. It will be interesting to see how often he is used next season, but what a career he has had \0/.
C- If I was writing this a couple of years ago, I might have gone for Kris Commons but his recent appetite for soup has meant he has plummeted out of contention. Step forward Ryan Christie. Ryan has shown he has developed into an absolutely fantastic player for us and next step for him will be to really take control and run a Sevco game for 90 minutes.
D- Moussa Dembele. A centre forward who loved big games. The bigger the game the better. From his one step penalty to the roof of the net in CL qualifying to the Dembilition Derby and countless other games the big fella was a joy. Unlucky with injuries but I am sure he will go on and earn us more money. Interesting comments when he left about the rat and history proved him right. Honourable mention to Rony Deila.
E- We all wanna be Edouard. What a gifted player. Movement and touch is sublime. Ice in his veins and an absolute joy to watch. He will hopefully be here for the # Decima and then will move on for big money. I don't think he realises how good he is and how good he can be. Let's just enjoy him whilst he is here.
F- Tempted to go for the wee lhad Jeremie here or Jamesy but instead plumped for the Gran Muralla, big Fraser. His performance in the league cup victory was memorable. It terrified me that he had so many saves to make, but make them he did. I watched that game in the company of many fine Tims of the Sydney CSC at Cheers I remember at the penalty people were saying he was going to save it. I didn't have their optimism but save it he did, and he literally did a reverse Goram and broke their hearts. So, the big mhan gets the F-ing vote from me.
G- I thought Scott Bain and Craig Gordon have been decent keepers for us over the past few years and big Craig gets in as a member of the Invincibles. There were a few question marks around his signing, but it proved to be an astute piece of business and although Craig has slowly faded out of the picture, we should be grateful for his input. Thanks for the memories Craig.
H- Johnny, Johnny Hayes. Mr Dependable. Always gives 100% but knows if everyone is fit, he won't play. The perfect squad member. Who doesn't like Johnny, Johnny Hayes? Honourable mention to Gary Hooper. I would have picked him but he left to go to England and it was all downhill for him after that.
I- Invincibles. We will never forget that season. That season the football was bold, beautiful and a joy to watch. We had new heroes in Moussa and Scotty Sinclair. A fairytale season capped off with the iconic image of big Tom wheeling away after netting the winner against Aberdeen. Honourable mention to Emilio.
J- Mikey J. I love when Mikey is in full flow. I hope that he fulfils his potential as I believe there is a cracking player in there. Time and a run of games will tell. Fingers crossed.
K- I've went John Kennedy here. Sometimes maligned but clearly a Celtic man. Has been part of this tremendous run and credit where its due.
L- Lenny. The pressure on him last year was tremendous in those first two games Hearts and Hibs (Cup) away. He got the team to rise to the occasion and the joy on his face when Eddy rattled home the winner from Broony's pass at Tynecastle showed that he IS a true Celt. Honourable mention for PC Lustig.
M- Callum McGregor. Everyone loves Calmac. He is so technically good and has truly grown to love playing for Celtic over the years. He makes goals, scores goals, makes passes, wins tackles. Just a joy to watch. Honourable mention for Charlie Mulgrew.
N- N'tcham. Is he a top, top player? Or someone who isn't interested? I am still unsure. On his day he is an absolute joy to watch and sees and does things that are truly outstanding. I have also seen other games where he has not looked interested. Undoubtedly a top, top player-when he wants to be.
O- Oh My Days!! These truly are unprecedented times. This phrase made famous by Jeremie Frimpong absolutely nails the zeitgeist. With 11 trophies in a row won and nine leagues in a row won, domestically it is as good as it gets.
P- Pukki. I could not believe what I was seeing when at the start of this season Teemu was battering in the goals at Norwich. My experience of him was that he was never a player. He certainly wasn't for us but good luck to him.
Q- Quarantine. It is a measure that Broony is such a good player that he has won trophies whilst working from home. The gap was insurmountable and that is why and how we completed our nine in a row. Anyone who says their team would not have accepted the title does not understand that the league WAS over in March. If anyone says we could have been caught they clearly do NOT know anything about football. At all.
R- Big Tom Rogic. Saw him playing when he was about 16/17 in Canberra and could not believe his skill level. So happy that he has won so many trophies playing for the Hoops. He has been unlucky with injuries but when fit and on his game he is unplayable.
S- Ooh ah Samaras. Our gorgeous Georgie Bhoy was a guy who could win games all on his own. He could also infuriate you with dribbling up blind alleys, but you knew you were going to forgive him when he did something magical. Formed one half of a bromance with Jay Beattie. A top Celt.
T- KT. Lived the dream. It was clear in his last year that his mobility was compromised, and I think we were right to take the big money on offer. Osteo pubis is a terrible injury and hopefully KT will get his fitness and form back. He'll be back, maybe as a player but definitely as a fan.
U- Unforgiveable. The rat. His greed and timing of his departure still leaves a bitter taste. Great coach. Pretend Celtic fan. Don't even want to write anymore on him.
V- Virgil Van Dijk- A player of outstanding quality now being properly acknowledged throughout Europe. Absolutely strolled it in Scotland.
W- I've went for big Victor Wanyama. He was a unit and could play. One of the two W's who scored in the win v Barca.
X- Roman numerals. The magical Decima. We are going for X next year. Fingers crossed we reach it.
Y- You. Bit of a stretch with this. But everyone who reads this, goes to the games, buys merchandise or Celtic TV or just loves the Hoops is a factor in our success. You are the heart and soul of Celtic.
Z- Lukas Zaluska. A solid if not spectacular goalie who had six good years at Celtic. The sort of back up goalie that every club need. Not likely to have been a first choice but hats off to him for being part of it.
I know that you won't agree with every choice above but that is okay. It has been a remarkable run and if we can top it off next season with an historic tenth that would truly be the icing on the cake.
This was written by a friend of mine who migrated from Scotland to Australia, he will be writing from time to time on here, please give him a follow on Twitter, he is new to it and will follow all Tims back.
---