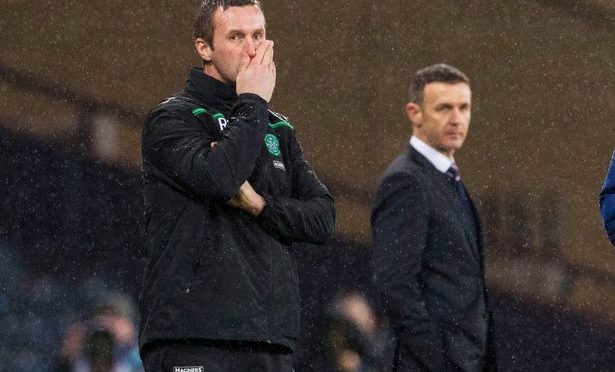 Celtic should sack Ronny Deila, not merely for an inept performance against Ross County but for an utterly clueless management stint which has seen us lose out on 10's of millions of pounds in Champions League money. This team and this manager will NOT qualify for the Champions League next year, no different to Malmo, when the going gets tough we have no plan B.
I have never seen a team trailing by 2 goals play the ball backwards and sideways so much as Celtic yesterday. We were being hounded all over the pitch only to kick back to Gordon for him to punt the ball into contested possession. We do not build play up from the back effectively let alone score goals in pressure situations.
That Celtic's best opportunity of the match was a missed penalty explains volumes of our one dimensional nature under Ronny. We as a collective unit do not have another gear to go to when we are in a crisis. This simply means that we are going to fold under concerted pressure, which is itself the hallmark of Cup football. If we can't step it up a gear in Glasgow against a team with a few thousand members how are we going to go against the likes of the mega clubs down south and on the continent?
We have 6 months until Europe comes around again and for all we know it will be straight into the Europa League. With the way things are we can't make a charge on winning trophies and make big money in the Champions League with a manager whose every move reeks of conservatism and fear. Taking Callum off was foolish, Biton was playing so deep he was basically a defender anyway for the first 14 minutes. Surely we weren't thinking of 76 minutes of defence with a lucky winner. The tough decisions need to be made now or we will continue to see Celtic embarrassed.
The change in fortunes in Chelsea since Jose was moved on has been immediate and effective. Celtic are still fighting on 2 fronts, one of which will guarantee European Football next term. This is enough of a carrot to draw a decent manager to Celtic, let's remember the Newco will be playing in the Premiership next year regardless of their League position. There will be "Oldfirm" games next year to add interest for any prospective management candidates.
Before defending Deila I ask you to picture Celtic down 1-0 to Sevco at Ibrox. Would you bet on Ronny Deila having the fortitude to lift the team? Would he deliver the rousing speech at halftime or would he have the tactical nous to shuffle his deck and get the goal back, let alone a winner? We all know the answer to that and for that reason, we all know what must happen now.
---