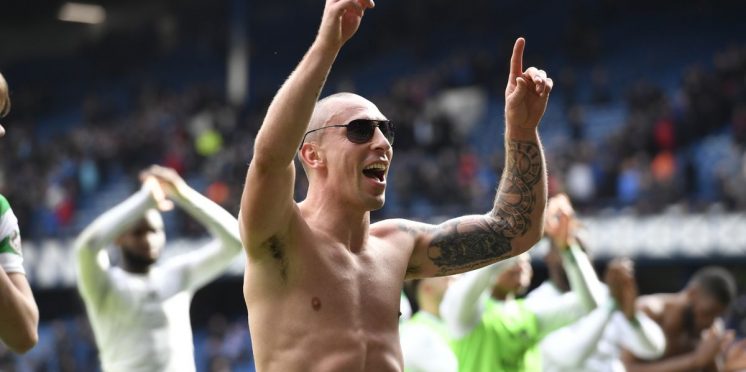 Pandering to the Peepul, Police claim it's Celtic's fault for winning
We have seen accommodations for the club playing out of Ibrox that wouldn't happen for any other club anywhere else on the planet, a decade of cheating is a quarter of a million pound fine, screwing the taxman for 48 million equals moving along, lying to UEFA about solvency equals it was a different company, 276 creditors out of pocket equals WATP, same club Timmy.
It seems as though Football in Scotland is a rubber band that is meant to flex and bend to the whims of one particular support, now the battery throwing masses fresh from hooting like a monkey at Scott Sinclair have been found to be innocent because they were baited by Celtic for doing that most dastardly of things… celebrating a win.
Words fail me, ever since last years bubble was burst in spectacular style after a Tory linesman screamed for a red card for Jozo and the Peepul saw their opportunity only to be sunk by Eddie's spectacular winner, the petition brigade have been out and about to nullify the laughter pointed at them from the free Broomloan.
The allocation was first cut to rapturous cheers, it is now in jeopardy itself and it seems the reason being that Celtic fans have too much fun at the Football, The DR has reported the following from a Police Scotland memo:
"I am firmly of the view that there is a clear link between the actions of the Celtic players (which immediately inflamed an already delicate situation) and subsequent response of the Rangers fans.
"Had I known about the Celtic team lap of honour, I would have suggested that the plan would be to release the Rangers fans first, if we had a Celtic win.
"As it was, as the Rangers fans had already been informed of the holdback, not many were actually making concerted efforts to leave so the timings to change the cordons etc round and deliver comms and messages were too tight."
Now this of course, can be fixed, we don't have a lap of honour, the players just come down to the corner and we have a party and laugh at the Shame from there.
The idea that Celtic's behaviour is the issue is a disgrace, we have seen the Shame jump the fence to celebrate winners against teams from the bottom end of the table for some years now, as I said earlier they have also been throwing batteries on the pitch, there was that ned who attacked Broony and of course the racists who belched their vile hate at Scott Sinclair too.
This doesn't even bring into account their destruction of property at Aberdeen and at Paradise.
In Scotland, the lunatics are running the asylum, enough is enough, we must take our allocation and if they rage then UEFA precedent must be brought to bare, empty stadiums until they learn how to behave.
---