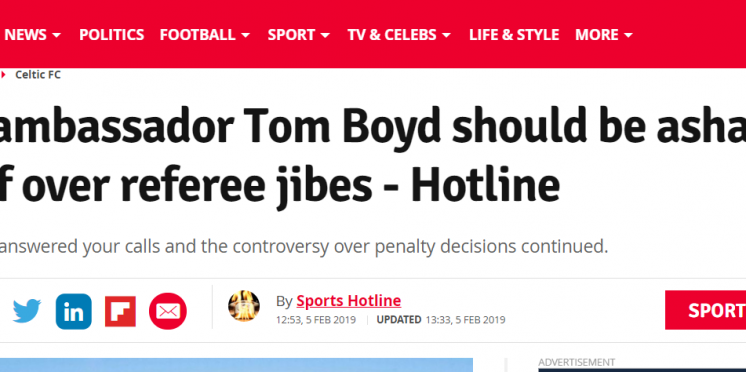 Record attacks Tom Boyd for attacking 'the other club'
The Record Hotline is back with more bewildered callers spouting their delusion and the DR picking the most anti Celtic to give the headline for today's rant.
The anti Boyd theme only lasted one caller who was raging that the Captain who stopped the 10 won't even use the 'R' word when explaining the team that currently plays at Ibrox.
In the headline it says that "Tom Boyd should be ashamed of himself" however the caller never uses the term ashamed or shame and instead calls for a but more class, but hey, if you want to sell a paper why not put words in the mouths of the callers.

Tom Boyd is a Celtic legend and it is his right to speak out against the ingrained bias that he sees against Celtic, that he won't go along with the Newco is the same club guff only shows him to be a man of reason.
Thereafter the entire hotline revolved around attacks on Celtic fan and Kilmarnock manager Steve Clarke for his attacks on the Peepul and more claims of paranoia from Celtic fans by fans of the 7 year old entity.
Of course precedent isn't something that is held in high esteem within refereeing ranks in Scotland, what is good for the goose is invariably bad for the gander.
With Dallas demoted after a few days of anger from all sides of Scottish Football bar one, it is little wonder that the fanzine has come out to attack those who have seen its favourite son with a whistle pegged back.
Tomorrow's match at Pittodrie and Celtic's match vs Hibs at Paradise will be scrutinised like few others in recent history, not just to see if Derek McInnes men are worthy title challengers or even favourites for second or if Hibs have recovered from the Neil Lennon fiasco, but to see if the referees can apply the rules fairly.
There are 6 huge points on offer and they could all come down to a breath through a whistle.
It has happened before.
---