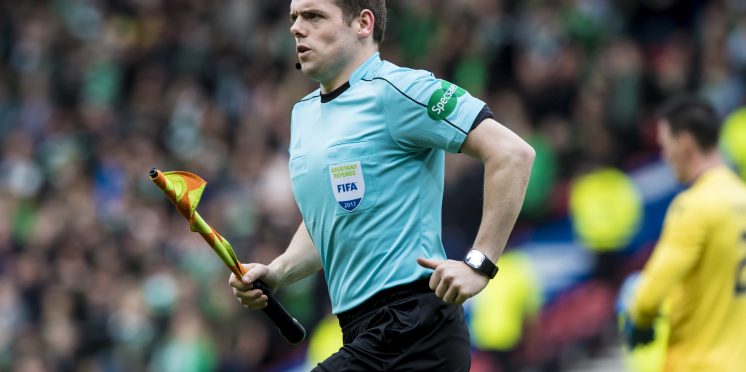 RED CARD Ross caught in corruption scam with same old Hugh Dallas.
Douglas Ross may well have his own dance moves to atomic kitten but he also is being accused of being "mired in cronyism" this due to the fact he agreed to giving away £7000 to friends to help them refurbish an apartment whilst he was a MSP.
The news of his refereeing collegue is no there than the man with a pound in his head and a whistle in his mouth, Hugh Dallas.
The interesting thing about this is that Hugh Dallas universally known as a charlatan of a referee among our own support is actually internationally respected, he was once the 4th official at a World Cup final in 2002, when Celtic weren't playing he was somewhat more professional.
Such is his name with FIFA and UEFA that having him as a friend and indeed a supporter could be a very important thing in furthering your career in refereeing, a certain refereeing association with funny handshakes rules the roost by influence more than ability after all.
As reported today, the £7000 he gifted his dear colleague could well have bought him his flag, regardless, that we are seeing Bojo getting away with this in Westminster and Ross not being a person of interest for the DR or Sun is amusing.
Commenting, SNP candidate for Paisley, George Adam, said: 

"While the SNP is focussed on getting Scotland through and out of the pandemic, with immediate plans to support the NHS, protect jobs and help our young people, the Tories cannot escape the stench of sleaze around them.
"Douglas Ross now finds himself engulfed in the Tory sleaze scandal that he hoped to dodge, using taxpayers' money to pay rent to a close friend whose property appears to have been rented out just as Douglas Ross got elected. 

"The sleaze pouring out of the Tories right now shows that the Nasty Party is back – and they cannot be trusted to hold public office.

"Whether it's COVID contract for cronies, donations for decorating, texts for tax breaks, or renting from referees – a culture of sleaze has consumed the Tories.

"Scotland deserves better than this. On 6th May, Scotland has the option to choose a different path – a path that doesn't involve Tory sleaze and cronyism.

"It is only with Both Votes SNP that Scotland's future can be in Scotland's hands."
---