Rogic to stay, doubts over Doughty and the curious case of Luca Connell
Invincible treble hero Tom Rogic is set to stay at the Champions and fight for his place after refusing personal terms with an unnamed Qatari club, at the same time Charlton manager Lee Bowyer has not only turned down a bid for Doughty but is calling on the lad to sign a new contract, then there is Luca Connell.
Connell came to the club highly rated after breaking into the Bolton team in an ultimately futile season as the bankrupt club went down, he then spent all of last season in our development team, something which essentially doesn't exist anymore with the collapse of the format.
This means that essentially we either have to farm him out or start playing him, at least some time off the bench, he can't spend 2 straight years not playing football at his age.
That said it would be a shame to see the young Irishman move to a lower league team in Scotland or in England and not feature for Celtic, his 45 minutes in preseason had everyone who watched the game raving about him.
At the same time we are actively chasing the signature of Doughty a player who would likely take his position in the squad if he is signed.
Of course, we also have Moi on loan, a player not on the clubs books but taking a place of a young player desperate to make his mark.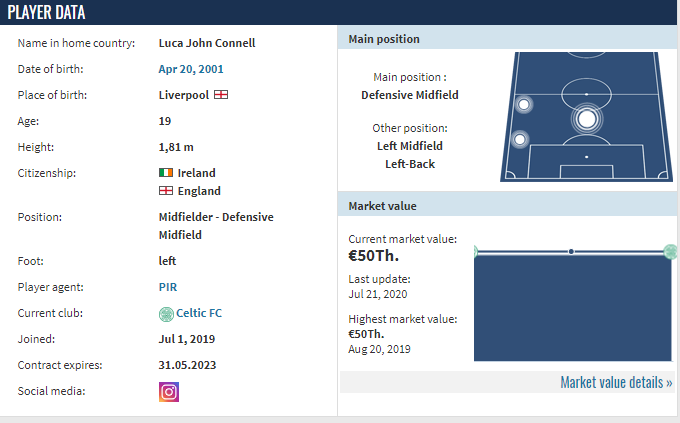 You have to feel for Luca, with a loan player ahead of him on the left wing, the captain ahead of him at defensive midfield and in his other preferred position of Left Back the club actively looking for cover for Taylor.
I am not against the purchase of a left sided player, far from it, Hayes versatility needs to be replaced and Boli needs shown the exit.
But we may well have the utility we need on our books, when the squad comes back from international duty, maybe it is time that Lennon brings Luca onto the 9 man bench.
Frimpong took his chance and look how that has turned out, Luca has yet to get his, let's hope he isn't another farmed out or stuck in obscurity behind players not on our books.
This will be Broony's last season, a break through season for Connell and we might just find we have the holding mid and left sided utility that would solve a lot of our headaches going forward.
---