Ibrox news has gone full Sevco, with the Newco chasing a Turkish lad called Ridvan Yilmaz from Besiktas the delusion has already taken a hold of them.
Yilmaz is wanted for 6 million euro and a 25% sell on clause but the hard of thinking have already warped this into their demented logic as an earner in the making.
After a couple of decent transfers they seem to think that they have emulated our transfer strategy, the facts are they have gotten lucky, Rafa Benitez threw money down the drain for Patterson, Aribo went on the cheap and the media has conned Ajax into signing a very average player.
But with Yilmaz being chased they seem to think that they can turn 6 million euro into 36 to 42 million in a couple of years.
As written in Ibrox News:
Rangers are known to be extremely good at buying players for cheap and selling them at a profit and clubs are aware of it.
Whenever they're selling young players they make it a point to include this clause as they will not just get a transfer fee but will also be eligible for any future profits generated.
Gers are in desperate need of a new left-back, having sold Calvin Bassey to Ajax so this is the ideal signing for them.
At 21, he may be slightly inexperienced, but he's got bags of potential and we're certain that he can go to the next level at Ibrox.
If he still wants to leave after a few years, there's a very good chance that his value would've gone up six to eight times and that's only going to be a bonus for the Rangers hierarchy.
It's interesting to see when and if Gers return with a revised offer or if they plan to discuss terms with the player's agent now.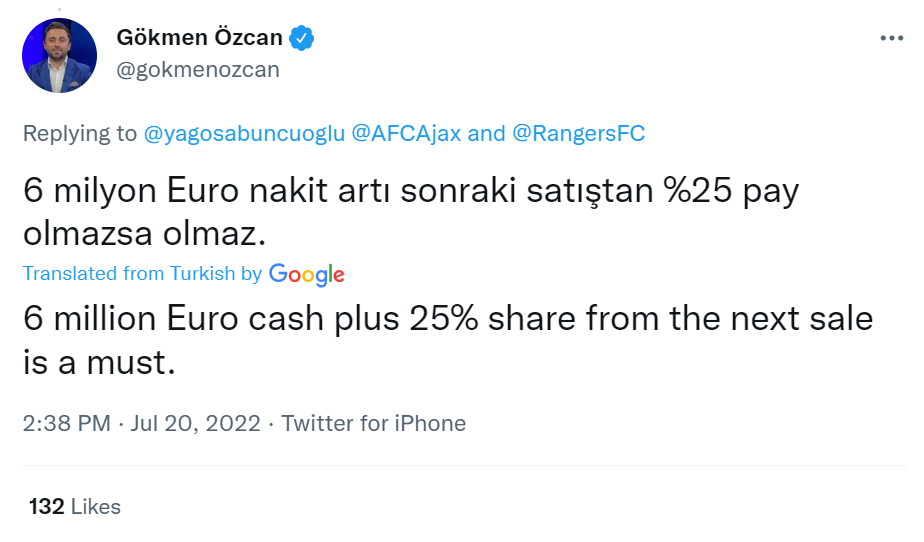 Unlikely Sevco will pay 6 million euro, almost as unlikely that they will turn 6 to 8 times that in a couple of years.
Still, the deady bears can dream.