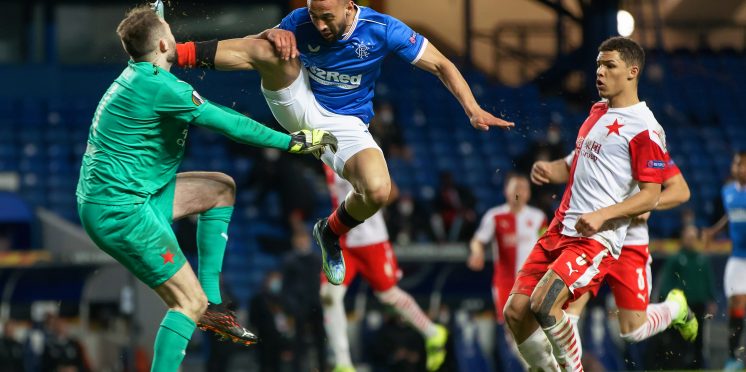 Slavia keeper hits out at Roofe and Sevco fans Insta hate
Racism is a scourge that needs to be eliminated from the sport, we are all aware of that, even The Rangers fans who it seems have become experts on the subject of late, one thing we haven't heard of is the other side of the story, of the abuse Rangers fans dish out on a daily basis.
Slavia keeper Ondrej Kolar is still waiting for an apology from Kemar Roofe who kicked him in the face, the incident would likely have gotten the keeper a yellow card with a penalty awarded for tripping the Ibrox player had it happened in a domestic match but UEFA actually apply the rules in their competitions evenly.
Worse still Sevco fans on social media have wished even more harm upon him.
As reported in The Sun:
"I read what he said. He said he was first to the ball, but he didn't add that he kicked it out of my hand, collided with my leg and hit me on the head.
"He saw me the whole time. Anyone who has ever kicked a ball knows that the foot can always be pulled down. It's a game of football, it shouldn't be about my health.
"If I ever met him again I'd say nothing. I'd wait for him to see if he apologised and asked about my health.
"I waited for Roofe to write me a message on Instagram for example. Instead, I read hate messages from Rangers fans, 'he should have kicked your head in'…'he should have broken your spine.'
"I know things aren't good between Slavia and Rangers right now, but that?
"I was disappointed that Roofe did not apologise through the media. I'm not vindictive, I don't need him to give me something back, but he should think more because maybe the next time, he could ruin someone's life."
Splits a mans face open and doesn't apologise… fans wish he was kicked in the spine… stay class Sevco.
---