When there is a major trauma there are generally 5 stages of grief, Denial, Anger, Bargaining, Depression and finally acceptance, these are all muddled up with the Newco fans after watching their team beaten in their own backyard a few days after being dismantled by PSV.
Anger is omnipresent with The Rangers fans, Denial is more a way of life for those who watched their club die or who have been raised in the shadow of the Newco, Depression grips their entire existence and acceptance usually sets in some time around March when next year FC prepares to win the off season trophy yet again.
Bargaining however is a strong suit of the Sevco grief cycle, one whereby they spout as much guff as possible and hope that someone will agree with them, then leading to others until a consensus is formed.
It often happens when players are linked with moves with Dembele Dollars often floated and Undisclosed fees paid.
Now we are seeing a whole new kind of revisionism, whereby Kyogo is being seen as a lesser player than Kemar Roofe.
Firstly lets take a look at this, Cantwell is in Turnbull's class but he certainly isn't in Hatate's who is on the mend and will soon resume his place.
Ryan Jack couldn't lace Callum McGregor's boots for fear of injury, he is a sick note who wouldn't get into the Celtic B team, Callum has 5 trebles, all won whilst Jack was either losing trophies to Celtic whilst he played at Aberdeen or Rangers, the comparison is a joke.
Scales and the other boy (Lagerbielke) kept a clean sheet, they are also not the first choice picks with Nawrocki and CCV not to say Philips vying for a place.
Butland over Hart I will pay that.
But Roofe (when fit) being better than Kyogo is almost as foolish as this Kris Boyd vs Henrik Larsson garbage that swirls around.
Kyogo is a fantastic player who proved to be the difference between the two teams yet again, in their back yard with no Celts in the stands.
Roofe (when fit) is a decent player who wouldn't get anywhere near a Celtic jersey.
They can bargain all they want, we know the truth, we have a much better team, a much deeper squad, a far better manager and a lot more money.
Oh and we are 4 points clear if you didn't catch that.
With such delusional fans it is little wonder they are played so easily by their clubs board, they truly struggle with the simplest things.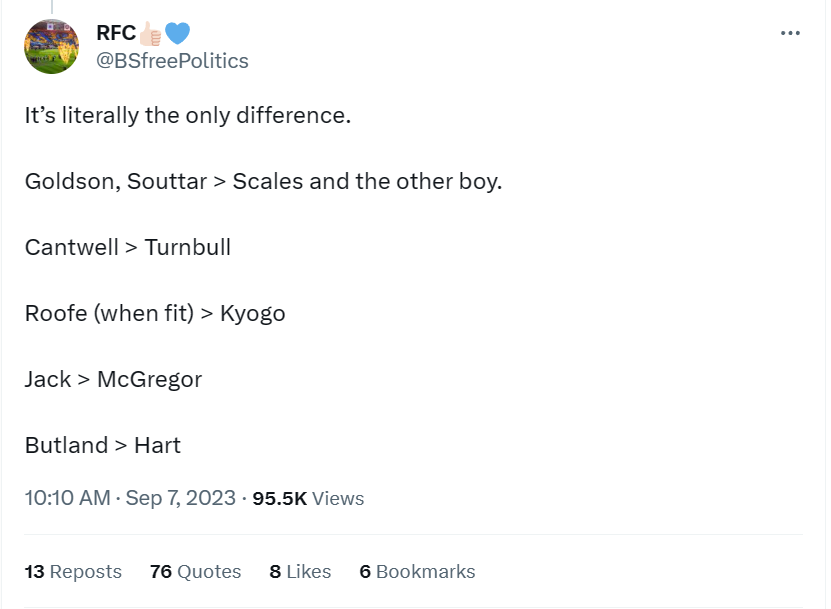 In case he deletes this nonsense. Check the quote retweets on the link above.