Yesterday we saw that the print circulation of papers in Scotland had hit an all time low with revenue down 25%, today we are seeing why with an Only Fans performer, or stripper or online sex worker or whatever the correct semantic are being paraded around in the Scottish Sun in a Chelsea tap begging for a ticket to a dead fixture.
This is her only fans profile, a real bargain if you want a knock down priced Lana Wolf.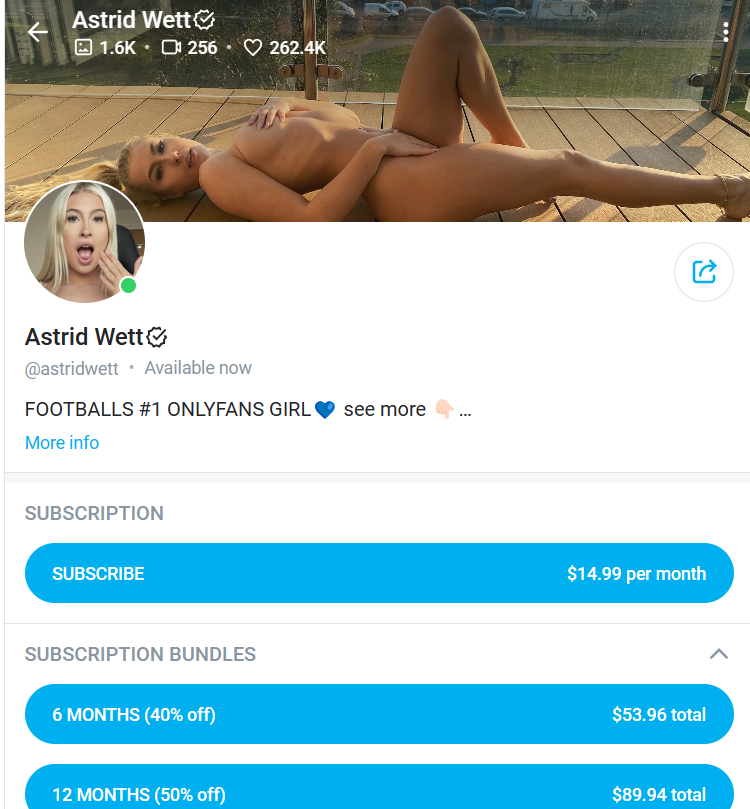 Just $15 a month! I wonder if she is actually doing interviews like this merely to get some more subscribers?
Nah that would be cynical of me.
Speaking to the Scottish Sun, Astrid says: "I've always been a big Chelsea fan, and we have a close affiliation with Rangers. 
"Lots of their fans come to Chelsea's games and vice-versa, I'd definitely say they're my Scottish club.
"I have many friends that are Rangers fans, and would love to go to an Old Firm one day to see the famous atmosphere.
"Football in Scotland doesn't get the respect it deserves.
"I've yet to visit and was hoping Chelsea would draw either Rangers or Celtic in the Champions League Group Stage but we narrowly missed out."
Astrid adds: "I'd love to come up to either Edinburgh or Glasgow at some point as I do have lots of Scottish followers.
"Followers", you can follow for as little as $89.94 and help her pay for a ticket herself, mind there will be no Old Firm, just the Glasgow Derby, she was 10 the last time one was played.