You have got to love it when after 3 arrests are made we see a national newspaper famous the length and breadth of the planet call for the end of denominational education to solve the problem of sectarianism, itself something created and kept alive by the Orange Order.
People will say that is a narrow view but in reality, where ever the OO is Catholics are rightfully angry, a group of clowns marching down your street glorifying 850 years of oppression is hardly something that lays the grounds for cross community consensus.
In London, Dublin, Edinburgh and Cardiff these gatherings are non existent or tiny, so is the same in NY, Sydney, Vancouver and Auckland where Catholics and Protestants live side by side in friendship and often intermarriage.
The crux of the sectarian issue, or racist issue, if it were anywhere on earth except the west of Scotland or the North East of Ulster, is that there is a dedicated racist order cutting about as if their behaviour has something to do with culture.
The fact they have burnt bonfires for 300 years mean that they have a self given right to do it in perpetuity, since hating Catholics was encouraged in this time and in truth up until relatively recently at a state level, they assume that these practices can continue in a millennium where the IRA hasn't been involved in a belligerent action.
Our own community has moved on from the hate which permeated relations before the May 1998 Good Friday Agreement, that the support of Rangers have not is their shame, that the police provide them an escort and do not intervene in the singing is disgusting.
It is to be expected though, after George square and the disgraceful scenes we all witnessed which have been overlooked by the Police it is not to be expected that they can be relied on for much, nor the prosecutors who have given more money to Charles Green in compensation than he paid for the basket of assets in the first place for their malicious prosecution.
The article is behind a paywall but here is the start of it calling for the end to denominational education.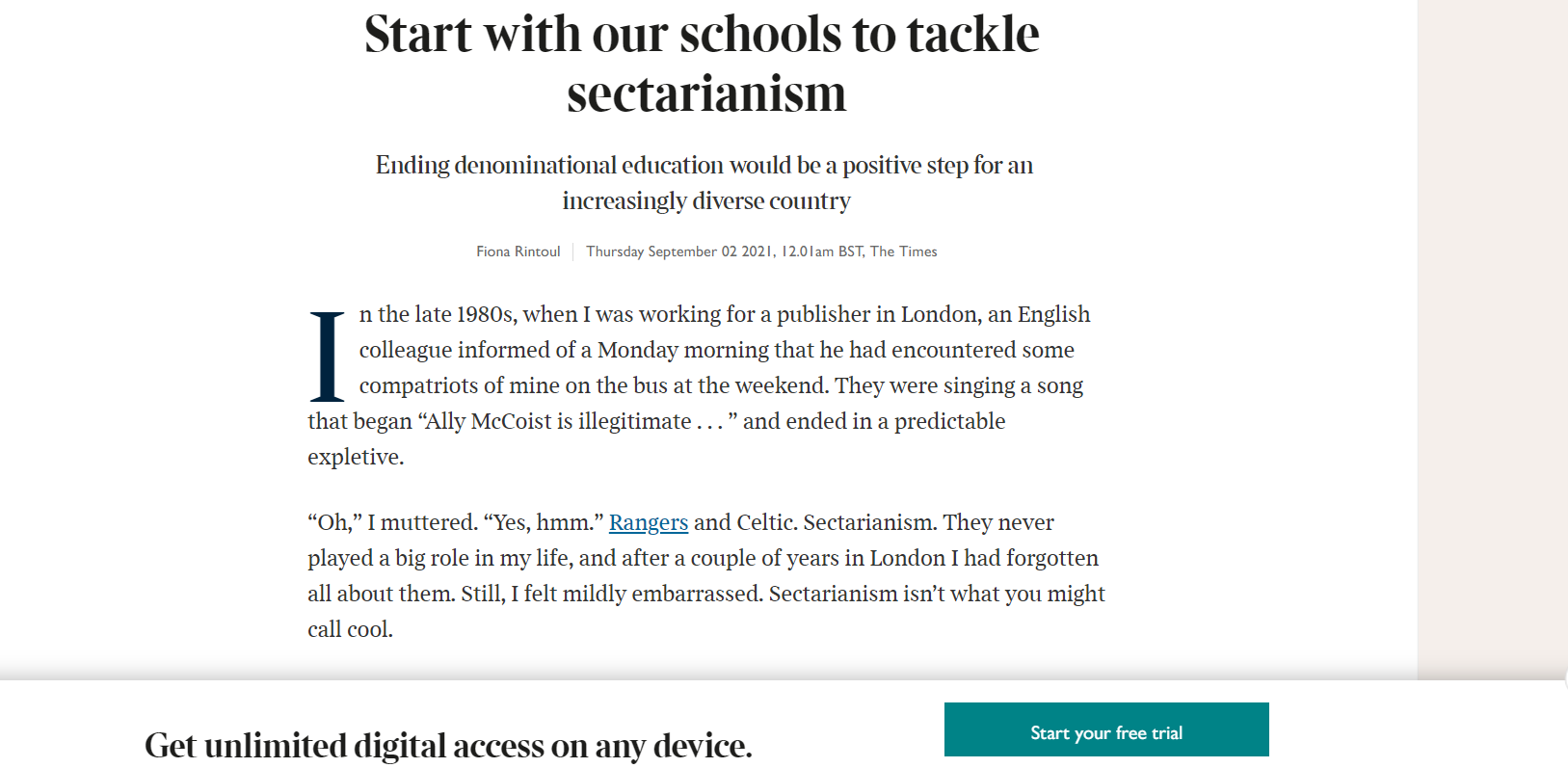 There are over 800 comments on this thread and 350 quote retweets, by all means add your own.
The author herself has less followers.