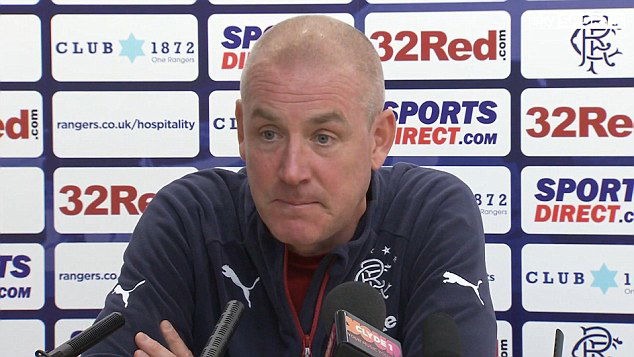 Watch Jabba make weak Warbo do walking away
James Jabba Traynor, the Level5 PR spin master whose very name is synonymous with Succulent Lamb journalism, has popped up at a Sevco press conference to make Warburton look like a little bitch.
Now that is quite harsh language, but watch the footage and you will agree that it is hardly inappropriate terminology.
https://www.youtube.com/watch?v=_5AYQhqQud0
Warbo looks embarrassed and bemused as Jabba calls the shots.
Now the fracas naturally enough revolves around Joseph Bartons ability to play for the Newco.
Hilariously, the fact he is making good progress in training abroad and has not transgressed with another twitter gaffe are tragic news to the Ibrox regime who are desperate to offload him.
The gravity of the fact that we could have 2 years of this circus operating out of Mordor is frankly even funnier.
So perturbed are Sevco's minders that their own manager needs to be guarded from questions that stray from the narrative.
There is one amazing glimpse into the dark world of the SMSM and its habitual lies, on 11 seconds Jabba says:
"Stick to the script"
What dare i ask is the script?
Are the journalists who are dodging banning orders like the Beeb or the slovenly hordes like Jim Spence being sat down and told in advance what can and cant be asked?
It is a point worth asking because this was the exact alleged journalism which under pinned an era of massive financial doping that lead to the death  of Rangers.
The once feared institution is now mocked daily by the Spivs who run it, the deluded vandal fan base and the sycophantic media which is both unable to let go, and unable to understand, let alone accept its part in the death of the Oldco.
If they are not sticking to the script then that bides poorly for The Rangers, they have many problems and few solutions other than to deflect attention with petitions and statements.
The more journalists who stray from the script the better, it is about time that the entire culture of Scottish sports journalism came under review.
The boys club which is the SMSM is little more than a gaggle of idiots who it seems, rewrite articles from Rangers Fanzines and pass them off as the news.
But as Jabba waves his flipper at someone who dare not follow the accepted version of events, we are seeing just how desperate they are becoming.
I think Sevco's press conferences could become very amusing between now and when we hammer them at Hampden on the 23rd.
Their fear is for all to see.
---