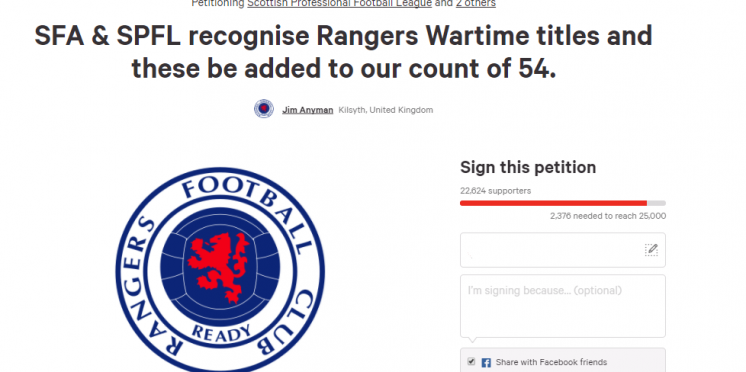 World War I: What Sevco are NOT telling you.
I decided to do a bit of research and found a few holes you can drive a bus through in Sevco's fans movement for either stripping Celtic or award Rangers (IL) the WWII titles.
Firstly, the competition in WWI was a national competition which was officially endorsed unlike the regional and unendorsed League in WWII.
Furthermore, the idea that the 1913-14 season fits within the timeline of WWI is erroneous, the season finished in April and Franz Ferdinand wasn't assassinated until June 28, Britain declared war on August the 4th.
Out title victories in the campaigns of 1914/15, 1915/16, 1916,17 and 1918/19 all fell within the war, so did Rangers (IL) title of 1917/18, but you don't hear them calling for that to be stripped.
Whilst the Oldco's players hid in the shipyards during WWII, Celtic had no less than 50 current and former players and staff serving in WWI.
7 players paid the ultimate price dying in battle and another was awarded the Victoria Cross for bravery.
William Angus VC had a short stint at Celtic in 1913, before returning to his old job in the mines and then joined the War effort.
He was awarded the VC for rescuing an officer meters from enemy lines and was wounded more than 40 times, losing an eye in the encounter.
No Rangers player has ever received the Victoria Cross.
The idea that Celtic should be stripped of these official titles which were played in an era of Zepplin air ships and not Junkers bombers is ridiculous.
The Luftwaffe made football impossible during WWII, therefore it was wound up and regional leagues adopted.
The petition currently has 22,624 signatories, who seem to believe that Hibernian and Aberdeen have added Cups from this era to their honour list.
Aberdeen do indeed register their trophies, separately, of course, they are not claiming regional Leagues to be National as some would have you think.
The Hibs Historical Trust has made it relatively easy for even the most deluded fan to understand, they have honours split into 2 categories: Major Honours and Minor Honours.
Guess where the regional trophies are?
The petition states these pearls of wisdom:
The worst should be Celtic stripped of their WW1 titles but tbh it would be fairer just to include our 12. The main justification for taking their titles is that in England, these were suspended during WW1 – why should they have these. It's totally biased and wrong, not just morally but factually.
So their justification for taking our titles (no mention of theirs in 1917/18) is that because another Association suspended official football, Scotland should have too.
Since Scotland didn't suspend official Football they should be retrospectively suspended to adhere to a century old Southern precedent… this is morally and factually ridiculous!
Of course, after citing the suspension of Football in England during WWI, this leads to a precedent to unsuspend it in WWII in Scotland.
Their delusion knows no ends.
Donald Duck could tear this argument to shreds, hopefully, Donald Findlay is available when the push for true justice commences.
---